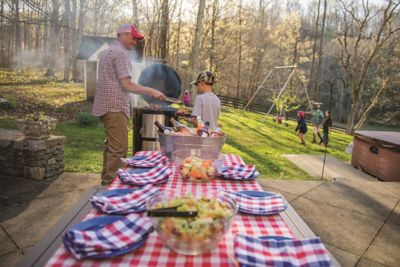 5 Tips for Using a Smoker
Fall is the perfect time for firing up your smoker grill. Whether you're planning the next big tailgate party, a fall family cookout or you're craving some smoked venison, this versatile piece of equipment is perfect for adding depth of flavor. Unlike charcoal or gas grills, smoker grills cook meats at low temperatures over long periods of time in a controlled, smoky environment. Smokers come in two basic shapes, vertical or barrel, with some variations based on the kind of smoking you'll be doing.
The principle of smoking meat is indirect cooking rather than cooking over an open flame. This is done through a heat source- charcoal, natural gas, propane, wood or pellets- that is maintained at a stable temperature, hot enough to produce smoke but not hot enough to burst into flame. The meat is then placed into a smoking chamber that is next to or above the heat source. The smoke fills the chamber and cooks the meat slowly, adding flavor from the smoke.
Whether you're new to the smoking game or a seasoned pro, the following five tips can help you produce the very best barbecue:
1. Set up two temperature gauges. You'll need to keep your smoker grill at a stable temperature of about 225 degrees. Grill temperatures can vary from side to side and end to end, and most smokers only come with one built-in thermometer. Adding two thermometers, one at the top and one at the bottom for vertical grills and one at the front and back of barrel grills can help you maintain the proper temperature as coals burn and airflow is adjusted.
2. Add moisture with a water pan. Water vapor adds moisture to the smoke and in turn to your meat, making it moist and tender. Vertical smokers come with a water pan for adding moisture, but most horizontal smokers do not. Simply add an aluminum foil pan with 1 to 2 inches of water to your grill and keep it filled throughout the smoking process.
3. White smoke is what you want. White smoke is the smoke that adds layers of natural wood-fired taste to your meats. If your fire is too hot, lacks ventilation or is coming in contact with meats, black smoke will result. And black smoke can leave your food tasting burnt and bitter.
4. Keep the lid on it! The key to perfectly smoked meats is to keep the heat consistent for the entire cooking time. Opening and closing the lid to your smoker causes it to lose heat and smoke resulting in inaccurate cooking times and a dry result. Although it's tempting to check in along the way, keeping the lid closed as much as possible throughout the cooking process is best for better barbecue.
5. Add in flavor. If you're cooking with charcoal, throwing in a few big chunks (not shavings or chips) of flavored wood, like fruit woods, nut woods and hard woods, that smolder rather than burn adds intense layers of flavor to your meat.
The end result of your smoking should be a dark, crusty and caramelized bark on the outside of the meat that's enveloping a pink and juicy inside. Producing that level of barbecue takes time, which is probably the most important thing to remember about smoking- don't rush it. Smoke your meats low and slow adding flavor as you go.
Tractor Supply Co is the one-stop-shop for all your smoking grill needs. We have vertical water smokers, barrel smokers and all the supplies to help you create perfect smoked meats every time.