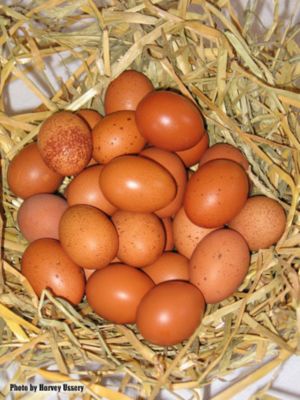 Chicken Egg Shell Quality and Omegas
Backyard chickens are a great way to add all the health benefits of high-quality protein to your family's diet. Eggs are low in calories and contain high amounts of protein, one serving having slightly more protein than a serving of milk. Eggs are packed with healthy nutrients such as iron, vitamins, minerals and carotenoids, and can be an important part of a balanced diet. But egg quality can vary in backyard flocks based on a number of factors. Learning what problems can arise helps you create a healthy environment for your chickens.
Egg Quality Issues
Any egg, whether backyard or farm produced, should look like an egg. Uniformity in shape and size lets the farmer know the flock is producing as it should. About 2 percent of all eggs laid will have some kind of minor defect or major deformity. The quality of the egg shell is an indicator of current or potential problems. The following are some of the most common factors in reduced shell quality:
Strain: Some strains of bird produce calcium at a faster rate than others. Darker brown eggs have a higher calcium content than other eggs, so choosing a breed that produces darker eggs helps with overall shell quality.
Disease: Infectious bronchitis, Newcastle disease and avian influenza are known to affect egg shell quality. Vaccinating your birds is the best way to prevent infection and is especially important for birds that are taken to fairs or shows. Vaccines can be given in the bird's water, as an eye drop, or as a nose drop.
Management: Proper housing, ventilation, nutrition, temperature and the amount of light can all affect egg production. Cleanliness of environment, food and water, and preventative health maintenance of your flock encourages better shells and production quality across the board.
Diet: A diet rich in nutrients and calcium will help your hens produce quality eggs. The best eggs are those produced by birds that have the opportunity to forage on plants and insects in a pasture or even just around the farm. Offering free choice of crushed oyster shell as a supplement will help hens regulate the extra calcium they may need when they are in heavy lay.
Stress: Stress to your flock can inhibit shell development. Major relocations, change in type of housing, feed or other disruptions to daily routine can result in malformed eggs, eggs yolks with blood spots, and weak shells.
Increasing Omega 3
Increasing the amount of Omega 3 in your backyard eggs adds to their nutritional quality for people. Omega 3 reduces the risk of coronary artery disease in humans, and eggs can be an added source, along with fish and fish oil. Adding flaxseed to your hens' feed is the easiest way to increase this nutrient. Flaxseed contains a-linolenic acid, which the hen deposits into the yolk while it is forming. This results in a fortified egg with little added effort or expense.
Sources:
https://www.gov.mb.ca/agriculture/livestock/production/poultry/increasing-omega-3-fatty-acids-in-eggs-from-small-chicken-flocks.html