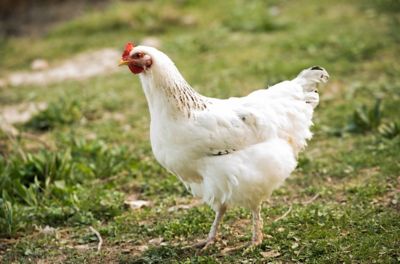 Amberlinks
Dependable is the first word that comes to mind when describing the Amberlink chicken. Its tried and true hardiness shines through in the coldest winters of the northern states, and they can hold their own in the heat of the summer. They do well in confined spaces, but can forage like no one's business when allowed to free range. The Amberlink is everyone's omelet in a world of scrambled eggs, they're made for everyone, and they're more filling from their superior egg production.
The heritage of the Dekalb Amberlink is a product of an ISA Hendrix genetic line. The father is a white bird and the mother is a red bird; however, you won't be able to get a true Amberlink from crossing a red purebred chicken with a white purebred chicken. The genetic lines are much more complex. You will also not be able to cross a male and female Amberlink and expect to get another Amberlink with the same superior genetics.
The Amberlink males and females hatch with the same color feathers, so they are not color sex-able, but they can be wing sexed. The males have mainly red plumage with a white undercoat that shows through in some areas. The females are mainly white with tints of red or amber in their wing feathers. Their bodies are a little heavier than a red sex link chicken. The males reach a mature weight of about 5 to 6 lbs. and the females mature at 4 to 5 lbs. These weights make the bird flexible enough to thrive in confined or free range environments.
The best quality of the Amberlink is the egg production. The hens will lay approximately 270 brown eggs per year. They are cold hardy making them a great choice for growers in the northern states that rely on eggs to sell. This is one of the reasons why the Amberlink's are gaining in popularity. The Amberlink's are harder to find as only a select few hatcheries sell them. Hoover's Hatchery offers this bird in their breed lineup and you may see this bird for sale in your local Tractor Supply store.
The Amberlink is a more active bird, which might lead you to believe that they are a bit less friendly, but that is far from the truth. The Amberlink's are a very docile bird that welcomes any form of attention, especially when food is involved. Their docile temperament allows them to get along with other heavy breeds in confined areas and in free range environments.
If you are looking for a breed that does it all, the Amberlink is your bird. It's hardiness allows this bird to thrive in many different environments and they adapt well. They are prolific egg layers that are docile in nature. The Amberlinks are the bird that is an all-in-one solution for your operation. We at Hoover's know that you won't be disappointed when taking this bird home from your local Tractor Supply store.