Wash the jars and lids and place them in a boiling water canner, filled with heated water.
Prepare Peppers and Onions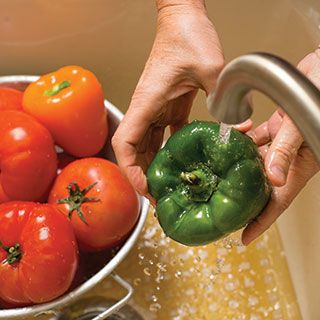 Wash and dice peppers and onions either finely or chunky, depending on your taste. "It's a good idea to chop all the ingredients except the tomatoes first ... so they'll all be ready to cook together," Judy says.
Set the bowl aside.
Prepare Tomatoes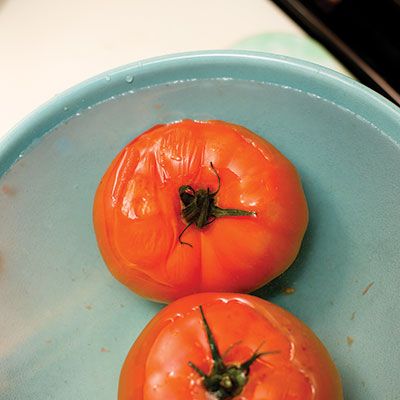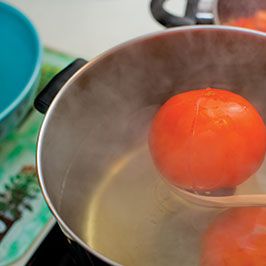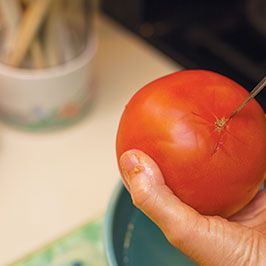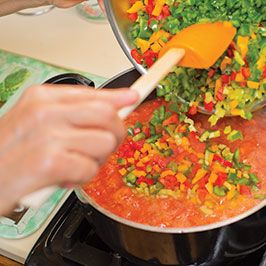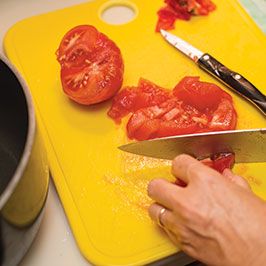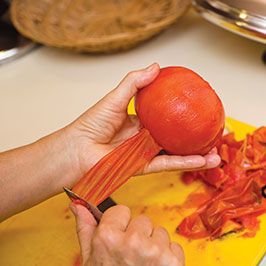 After washing the tomatoes, pick up the first one and cut an "X" at the blossom end. This will help in the process of removing the skin.
Lower the tomato into boiling water and watch for the skin to begin to peel away. This usually takes from 30-60 seconds, depending on the tomato's ripeness, Judy says.
When you see the skin peeling away, remove the tomato, dip into cold water, peel off the skin, cut out the core, and chop coarsely to make a chunky salsa.
Place all ingredients into a large saucepan, heat to a boil, and simmer for 10 minutes.
VINEGAR AND SALT
To preserve safely and correctly, you must use the correct kinds of vinegar and salt. Check your vinegar's label to make sure it is a 5-percent acidity vinegar. It's best to use a canning or pickling salt, but if you use a table salt, make sure it has no iodine or other additives, because those minerals will make your salsa – or whatever you're canning – change color, Judy says.
Processing the Salsa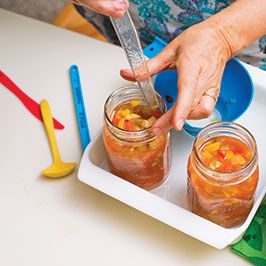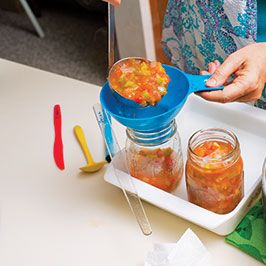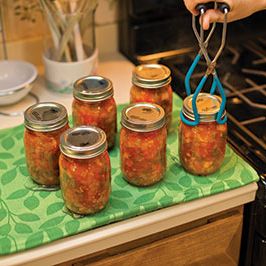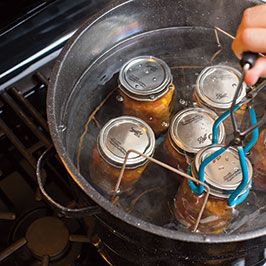 As with the beans, avoid messy spills by using a wide, flat pan under the jar as you fill each one. Before you start your first jar, scoop out about a cup of hot water and pour it into the flat pan; this will keep the jar's temperature even so it doesn't crack.
Fill each jar, leaving a half-inch of headspace and then bubble the contents to release trapped air bubbles. Bubbling will create more room in the jar, so add more salsa to leave the correct amount of headspace.
Clean the top of the rims with damp paper towels, place a lid on top, and screw on a ring finger-tip tight. Individually place the jars on the rack in the canner with a jar lifter, and pour extra boiling water (if necessary) into the boiling water canner so that it covers the jar lids by 1 or 2 inches. Pour water between, not on top of, jars.
As soon as the water reaches a gentle boil, set your timer for 15 minutes.
After 15 minutes, turn the heat off, and let the canner sit and calm for 5 minutes.
Using a jar-lifting tool, lift the jars out straight up – no tipping, because that could affect the seal – and place them on a cooling rack or towel, leaving about an inch between each jar to allow air flow to aid cooling.
As the jars cool, you'll hear a slight "pop" from each of them as the lids seal. Let them sit in place overnight to allow them plenty of time to cool and seal.
Final Steps and Storage
HOT CHILI SALSA
Ingredients:

5 lbs. tomatoes
1 cup vinegar
2 lbs. peppers, assorted (not all hot)
3 tsp. salt
1 lb. onions

½

tsp. pepper

Directions:

Wash all vegetables.
Chop peppers and onions.
Cut small X in blossom end of tomatoes.
Dip tomatoes into boiling water for 30 to 60 seconds or until skins split.
Dip in cold water, slip off skins and remove cores.
Coarsely chop tomatoes.
Put all ingredients into a large saucepan.
Heat to a boil and simmer 10 minutes.
Fill hot jars, leaving

½

-inch head space.
Remove air bubbles. Wipe jar rim.
Adjust lids and process 15 minutes in a boiling water canner.
Turn off heat, remove canner lid. Wait 5 minutes before removing jars and placing on towel or cooling rack.

Yield: 6 to 8 pints
Remove the rings, wash the jars, and label each jar with the name of the contents, the date it was canned, and, if you canned more than one batch, the batch number.
"You want to put the batch number, just in case," she says. "Then, if you have a problem with one jar not sealing or something, you can watch the other jars that were done in that batch."
Rings are to be used during the canning process only, not storing. "If you leave a ring on, it might have debris under it and it will get rusty and moldy," she says.
Wash and dry the removed rings and place them on a cookie sheet in a hot oven.
Out Here editor Carol Davis' canning specialties are tomatoes, her mom's salsa, and hot garlic pickles.