Why did the chicken jog on the treadmill? Because Barbara O'Brien wanted it to. O'Brien is a professional animal trainer and photographer with a knack for getting animals to put their best foot, paw, or hoof forward for movies, TV commercials, and magazine ads. Her secret: she reads their minds.
Well, maybe not their minds, but she does read their body language, and that gives her a pretty good idea of what they're thinking.
"I know what the animals are going to do," says O'Brien, who runs The Animal Connection, an animal talent agency, and an animal photography business from her White Robin Farm.
The 40-acre spread in Stockholm, WI, has about as many animals as Stockholm (population 63), the birthplace of Little House on the Prairie author Laura Ingalls Wilder, has people.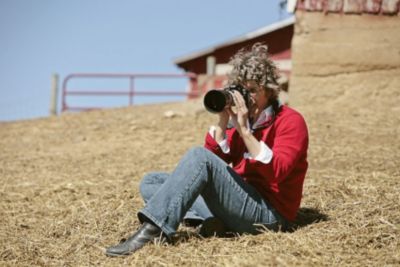 Most of her animals, whether they're dogs or cats, horses or sheep, are actors, too. Her clients include some of the biggest names in retail stores, pet food, and restaurant chains.
After some 20 years in the business, O'Brien has come to know a few things about animal actors. She tries to greet each one individually before a shoot (easier to do with a dog, she says, than a herd of cattle). She watches their body language to know when, or if, they'll look at the camera. She knows they watch her body language, too, so O'Brien tries to show them she's no threat.
"I'm best friends with everything I shoot," she says.
Above all, she cajoles them with treats.
That's enough of an incentive to get dogs, often afraid of the camera lens, to glance at a photographer, to get finicky cats to perform tricks, and to get a chicken to take a stroll on a treadmill.
"If the animals are not having fun you can see that in the photography," O'Brien says. "I shoot children, too, and the principles are exactly the same."
O'Brien came to her love of animals by nature, not nurture. "My parents wouldn't let me have any pets," she says. She used to borrow animals to show in local 4-H competitions and smuggle cats into her house.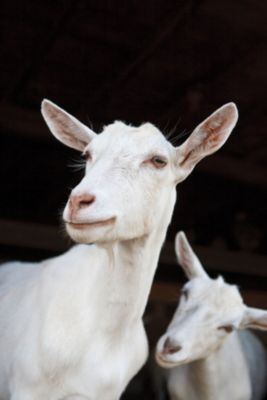 "I'm making up for it now," she says. She keeps up to 14 horses on her property. She has some 20 cats, with names like Jimmy Stewart and Gary Cooper. She has three dogs, three goats (named Marcus, Aurelius, and Tiberius), plus a small flock of sheep, some ducks, and chickens.
Often, she presses these animals into service on her shoots. But she specializes in knowing where to find animals she doesn't have, and tracking down the hard-to-find.
For one commercial, that meant finding camels in Milwaukee and a polar bear in New Jersey. "This polar bear was the biggest thing I've ever seen," O'Brien said. "They kept us all (at a distance), which was a good thing. It loved its trainer but it didn't love anyone else."
A NATURAL EXTENSION
O'Brien started her animal talent agency in 1984 when she realized no one else was doing anything like it around the Twin Cities area where she lived. It was a major advertising market, though, and she knew animals.
It worked. Recently, she picked up the camera, too, taking what she learned from working on film shoots and commercial sets to become a photographer herself.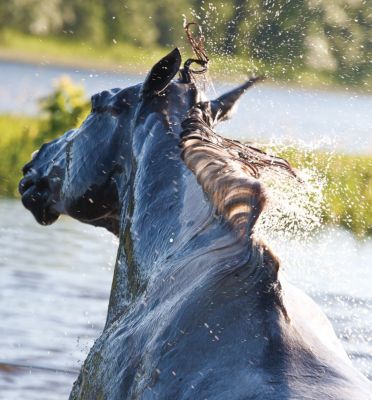 "Photography was just a natural extension," she says. "Having been on sets for 20-some years, I understand how it works. I know how to get the animals to do what I want."
Sometimes, they know how to get her to do what they want, too. On a recent shoot, O'Brien was photographing a herd of Morgans at a horse rescue operation.
"We were just mobbed by fantastic horses, a little bit skinny but really lovely," she says. "I took pictures of them, the stallions and the mares and the foals, and there was a particular mare who kept following me around. She kept talking to me, telling me she wants to be my horse," she says.
O'Brien resisted the urge to bring her home, but not for long. The next morning, she and her husband Kevin, who works with her, woke up in the morning determined to go back and bring the horse back to the farm.
"I happen to really have a soft spot for this type of horse," she says.
For an animal lover who grew up in an animal-free home, O'Brien seems to have found the perfect job. Her animals are her co-workers. Her farm is often the backdrop for her photography.
"I get to live the lifestyle I shoot," she says. "I get to work the lifestyle I live. It's a happy marriage of living it and doing the work."
David Frey writes in Glenwood Springs, CO.