Senior prom was coming and Olivia Newcomb wanted the chiffon dress that actress Kate Hudson wore in the movie, My Best Friend's Girl. But that designer gown was way out of Olivia's budget.
So she made it herself.
Olivia is part of a growing trend among teens who think sewing is hip. Spurred by tight budgets, a strong commitment to "going green" by recycling old garments, and by the innovative designs stitched up on television's Project Runway, young sewers are climbing up into attics and down into cellars, digging out Grandma's old sewing machine.
Even in last year's down economy, sales of sewing machines and sergers were up 5 percent, according to a survey by the Craft and Hobby Association, which promotes and tracks consumer crafting.
The biggest trend, says CHA spokesman Victor Domine, is for "up-cycling and re-purposing," an ideal combination for teen sewers who shop thrift stores, cut up baby brother's discarded jeans and create something new from Dad's old shirts.
Personalization and individual style are key for teens and young adults, he says. "They want the personal style, the flair, that sewing and crafting provide."
They get that by making their own clothes, bags, and gifts.
"Young people are coming back to sewing," agrees Maribeth Courtney, family and consumer education teacher at Massachusetts' Amherst Regional High School, from where Olivia graduated. "Clothes have always been a great way for kids to express themselves."
Courtney, who has been teaching for 24 years, says that when she began teaching at Amherst 18 years ago, there were just two sewing classes a year. Today there's a waiting list for her popular clothing and textile classes, which she offers 10 times a year.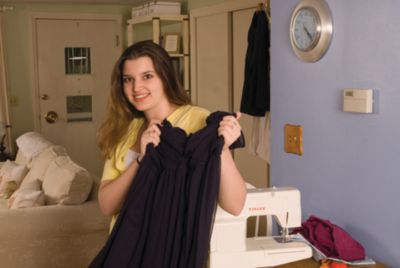 This is not your grandma's sewing class, which is one reason for its popularity. In the days of "home ec," sewing was taught in a structured way, with students learning about zippers, darts, and patterns. Today, students dive right in and by the second day of class they are expressing themselves by hand sewing on a fabric square, which in about two weeks becomes part of a tote bag.
Sewing lets you express your creativity and individuality because "you can design and create clothes exactly how you want them to look," Olivia says.
As she did for prom. Actress Kate Hudson's movie dress was red, with a fitted bodice and flowing skirt, "but I wanted it in navy blue," notes Olivia, now a freshman at the University of Massachusetts, Amherst. "My friends were blown away that I made it. It took a lot of effort and time but I am proud of myself for sticking with the project and actually wearing it to prom. It's an amazing feeling to wear something you made."
Olivia's mother taught her to hand sew when she was a youngster, but it wasn't until she started helping with costumes for the high school's winter musicals that she was hooked, eventually taking Courtney's clothing class four times.
Project Runway, a reality show that gives contestants weekly clothing design challenges, has been a huge influence on sewing among young people.
At Amherst, for instance, "we discuss the clothes they make (on the show), what we liked best and why, and the ones we hated," Olivia explains.
Courtney often devises her own challenges for students, such as making something out of a paper bag or using ribbon.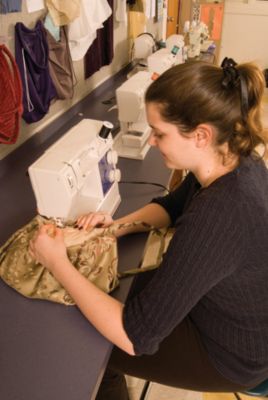 OLD IS NEW AGAIN
Recycling is also a big part of the sewing boom.
"Sewing gives you a chance to re-work clothing that may not be in style anymore," Olivia says. "When you can sew, you can fix the sizes of clothes or entirely change the way a garment looks. Recycling clothes is popular because teenagers want to stay within a trend or at least their own style, but clothes can be expensive. When you can re-work something, you can stay within a trend without spending (much) money."
Sometimes she buys something knowing she will change it. "Sometimes I'll see a dress with a top I love but the skirt is too long. I can buy it and shorten the hem. I love that I can have what I want without having to search everywhere. I can also buy things that are not my size and take them in. I once saw a skirt that I loved but it was the last one and two sizes too big. I bought the skirt and was able to make it fit me."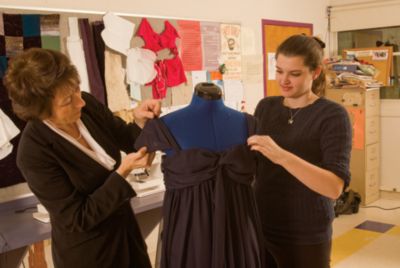 START SIMPLE
Got the itch to stitch? Courtney suggests beginners start by finding a used sewing machine in fairly good condition — not rusted, has most of its parts, has no frayed cords, etc.
"Most old machines are easily refurbished," she says. Learn how to use it and maintain it. Look for local classes or find a neighbor to teach you the basics. Most importantly, she adds, make sure the machine is threaded correctly or it won't work right.
"Then just start using it. Start with a simple project, like a bag, with no more than four pieces," she says.
Use a mid-weight woven fabric — linen, lightweight denim, poplin, sheeting, etc. — and stay away from velvets, knits, or slippery fabric such as silk. Better yet, take an old shirt, skirt, or pillowcase and turn it into a tote bag.
It won't be long until you, too, discover why sewing is making a comeback.
Roberta Wax is a California writer who has designed projects for several craft publications.