There's nothing quite as special as a beautiful arrangement of flowers cut fresh from the garden.
It's something Sharon Yantis, a Portage, MI, floral expert understands very well.
"A fresh flower arrangement brings a spark of joy," Yantis says. "I think we need a lot of joy in our lives."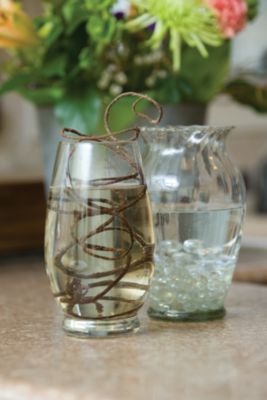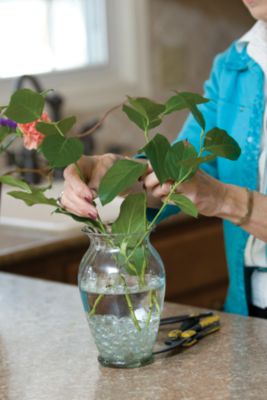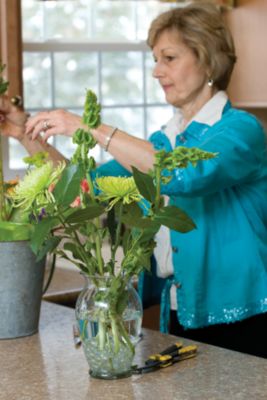 Yantis fills her home with flowers, and loves to share them with other people.
"It shows people you care," she says. "And I think it's a joy to give flowers to a hostess or to somebody in the hospital. There's a healing element to them. I think they have such an impact on people. You can see it in the smiles on their faces."
It was at her family's third-generation Ohio farmhouse that Yantis first fell in love with flowers.
Her father unwound in the family's garden after long days spent farming their 350 acres. Her mother grew zinnias, roses, larkspur, and sweet peas and cut them for arrangements indoors.
"A lot of my expertise was picked up from my mother," Yantis says. "She could take something that didn't look like much and make it beautiful. We didn't have a lot of money growing up, but our house was always filled with flowers."
After marrying and moving to western Michigan, Yantis began a formal study of flowers. She taught courses on floral arranging at community centers, and began a business composing floral arrangements for weddings and local churches.
She studied to become a flower show judge, and entered and won floral arranging competitions, eventually earning the title of master flower judge.
Yantis also rose through the ranks of Michigan Garden Clubs, serving for a time as its state president. She joined the board of National Garden Clubs, and now serves as its national public relations chairperson.
She's recognized as an expert in her field, and she's eager to share her knowledge with others.
STEP BY STEP
Bring joy from your flower garden into your home with Yantis' six steps for a balanced floral arrangement:
| | |
| --- | --- |
| Step 1: | Prepare your container to support your flowers by filling it with marbles, using a floral frog — sturdy foam used to hold up flowers and foliage — or composing a grid of very thin transparent tape across its opening. |
| Step 2: | Criss-cross branches, leaves, or greenery in your container to build a base of support for your flowers. |
| Step 3: | Add your line flowers — flowers or branches that are at least 11/2 times the height of your container. These will give your arrangement the height it needs. Good choices for line flowers include bells of Ireland, delphinium, larkspur, and gladiolus. |
| Step 4: | Add your focal flower at the center of your arrangement. These flowers should be the largest, most rounded, and most colorful in the arrangement, along the lines of lilies, Fuji mums, roses, and Gerbera daisies. |
| Step 5: | Following the shape created by your line flowers, add filler flowers, which should be smaller than the focal flowers. With these you can echo the color of your focal flowers or create high contrast by using opposite color tones. Good choices for filler flowers include statice and carnations. |
| Step 6: | Give your arrangement a bit of flourish at the end by adding grass or branches for added height and width. |
Samantha Meinke is a freelance writer living in Eaton Rapids, MI.
HELP YOUR FLOWERS LAST LONGER
Sharon Yantis offers these tips to make your arrangement longer lasting:
Cut flowers in the early morning or late afternoon when they're least stressed and get them in water as soon as possible.
Store them in a cool, dark place for a few hours before arranging them.
As you add flowers and greenery to your arrangement, cut them at the bottom at an angle. That way, when standing upright they can still get all the water they need.