Unless your dog has rolled around in the pasture, he or she probably looks and smells clean — or at least presentable. So why take the time to bathe and brush him?
Because it improves a dog's health, says Dr. Shana Savikko, veterinary adviser to the American Animal Hospital Association in Lakewood, Colo., which accredits U.S. and Canadian animal hospitals.
Bathing and brushing your dog removes dirt, dead hair, and dead skin; keeps fur from matting; spreads out natural oils in the coat; and helps him from developing an offensive odor.
It also helps in keeping a close eye on your dog's overall health.
"One of the major benefits of a regular grooming regimen is that you will become familiar with your pet's body," Savikko says. "This allows you to quickly recognize health problems so you can bring them to your veterinarian's attention sooner."
During the grooming session, check for lumps, bumps, irritations, and parasites such as fleas and ticks.
Ears are a prime place for infection, she notes.
"If you notice symptoms such as sensitivity to touch, brown, black, or yellow discharge, foul odor, shaking or continuously tilting the head, or circling in one direction, take your pet to the veterinarian for an examination," she advises.
Dental care also is essential to your dog's overall good health, Savikko says.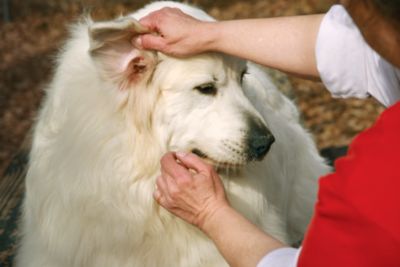 Bad breath is not just a natural part of being a dog. It's primarily caused by bacteria from plaque and tartar buildup, which increase chances of gum infection.
"Approximately 80 percent of all 3-year-old dogs show some sign of periodontal disease," she says, "characterized by a build-up of plaque and tarter on their teeth above and below the gum line."
In addition to your home care, your veterinarian should perform yearly dental check-ups on your dog and let you know when you need to have their teeth professionally cleaned, she says.
How often you bathe your dog depends on his breed and whether he has, indeed, been rolling in the pasture. Bathe too often and you'll dry out his skin. Generally, most dogs can be bathed every four to six weeks.
Bathe your dog in shampoo specially formulated for him, Savikko says. "Human shampoo is not made for dogs and cats," she says. "It can be harmful to their skin, drying it out and destroying their natural oils."
Always be extremely careful with your pet's eyes during all parts of the grooming regimen, but particularly during bath time.
"Dogs and cats have very sensitive eyes, and soap — even 'tearless' soap — can damage their corneas," she says.
In addition to improving your dogs' general health, Savikko says, regular grooming has another advantage. "It strengthens the bond you have with your pets by providing them much-appreciated attention."
Eve Carr is a Virginia writer.