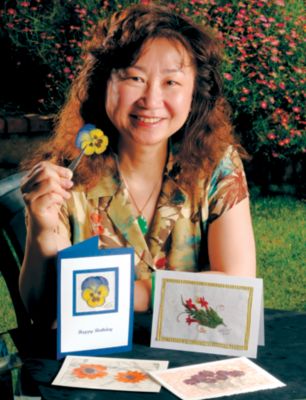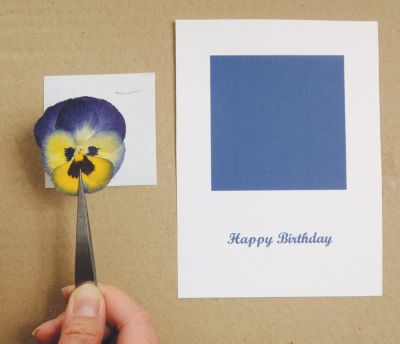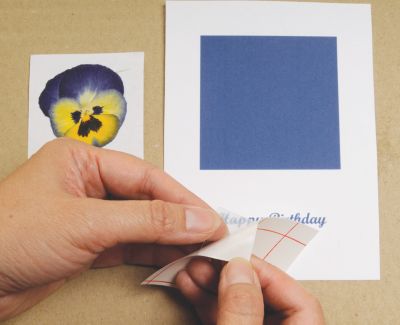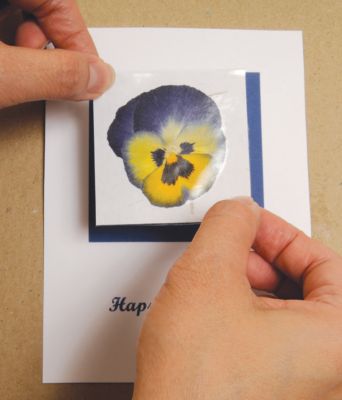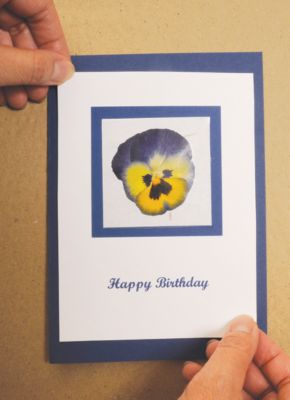 Mother Nature has nothing on Kate Chu. With nature's bounty as her palette, Chu creates artwork using pressed flowers, leaves, moss, seeds, grass, and even weeds and tree bark.
Though they're created with only flora, not paint, her award-winning pictures are at home in any art gallery.
Chu, who lives in the Southern California hills above Anaheim, not far from Disneyland, always loved gardening. But now she looks at flora differently, picking and choosing plants specifically for their pressing possibilities.
For instance, the Hot Lip Margarita daisy was chosen for its bright pink blooms, the lush Las Vegas Rose because it dries to a deep red. She has several ferns, chosen for their various shapes and colors.
This gardener has even grown to love the wild Boston ivy encroaching from the hillside. "At first I hated it," she says. "But now I like the shape and size of the leaf, which turns red in the fall." She ignores the nasturtium's orange flower — "It gets dull when pressed" — in favor of the leaf, which "looks like a lily pad."
Chu also wanders the canyons and hillsides around her home to collect tendrils from wild cucumbers, squash, and sweet peas. She'll use just about anything that grows, even weeds. "I've learned to love the weeds."
If you try pressing your own blossoms, select fresh, quality flowers, shortly after they bloom and process them as soon as possible to preserve the color, she says.
Although you can press just about anything, flowers that are flat press more easily. A daisy, for instance, is hard to press because it has a thick center. Pansies, on the other hand, are perfect. "And don't forget the greens," she advises.
Make sure the flowers are completely dry before storing or using them, she adds, and use acid-free paper as a backing.
Moisture is the enemy. Although Chu uses a vacuum sealing method and museum-quality acrylic for her larger pieces, home artists can use silica gel or desiccant board — a type of cardboard infused with silica — to frame pieces.
Pressed flowers make unique, elegant greeting cards, which is an excellent way for beginners to learn the techniques. Chu has provided instructions to get you started.
Pansy Card
Supplies:
Pressed pansy
Blue cardstock, cut and folded to measure 5x7 inches
White cardstock
White decorative paper that is acid-free (check the scrapbook aisle of a craft store)
White tacky glue
Laminate sheet
Tweezers to handle flowers
Toothpick to apply glue
Dryer sheet
Tissue to burnish laminate to flower
Double-stick tape or tape runner
Instructions:
Fold a piece of 8

½

x 11 blue cardstock in half. Trim so that finished card measures 5x7 when folded.
On the computer, create the front of the card by making a 3-inch blue rectangle. Write "Happy Birthday" below the rectangle and print out onto white cardstock. You can also use a rubber stamp to create the greeting. Cut it out so that it measures about 4

½

x 6

½

.
Cut a piece of white decorative paper to 2

½

inches, or whatever size fits the pansy. You can also create the layers without using a computer by simply cutting papers to a size that will accommodate your flower.
Dab a tiny drop of tacky glue on the back of the pansy and affix it to the handmade paper square.
Cut a piece of clear laminate slightly larger that the white square. Use either an iron-on clear film found in most sewing stores or a peel-and-stick cold laminate. For a bulky flower, the iron-on film works better, Chu says. Peel off the protective backing, and use a laundry dryer sheet to gently brush the non-sticky side of the laminate to remove the static. (CAUTION: If you skip this step, the static will pull up the flowers). Carefully lay the sticky side of the laminate over the pansy and the white square.
If using the iron-on film, smooth out the pansy so all areas are in contact with the film, place the protective sheet on top, then press with a hot iron for about 10 seconds. For the self-adhesive laminate, smooth the covering over the pansy, carefully burnishing it down using your fingers or a tissue. Carefully trim the excess laminate from the piece.
Attach the finished square to the blue rectangle with double-stick tape or a tape runner.
Attach the finished piece to the blue cardstock with double-stick tape or a tape runner.
Roberta Wax is a California writer who also has designed projects for several craft publications.