A casual comment to get a few cousins together evolved into an annual family reunion that's lasted more than seven decades.
"My Uncle Fred said to my father, 'Hey, we ought to get a couple of the cousins together,' and that's how it started," says Phyllis Naumann, who has coordinated the Seidemann Family Reunion for nearly 35 of those years.
About 125 family members showed up the first year for the reunion, held on the family farm near Newburg, WI; some 625 people attended the 50th annual reunion.
"There are a lot of Seidemanns," notes Naumann, whose family homesteaded the farm in 1853 after moving to the United States from Germany.
Getting together helps family members hold to their common thread. "For each generation, it's important to stay in touch with other generations," says Edith Wagner, editor of Reunions magazine. And not just in sad times. Many reunions start because families realized they saw each other only at funerals, a survey by Reunions revealed.
To launch your reunion or restart one that has faltered, determine interest and choose a logical location — your hometown or a place centrally located.
First and foremost, think way ahead. Reunions require about a year of planning, plus leeway to arrange for time off and travel. "The biggest mistake in planning a reunion is not allowing enough time," Wagner says.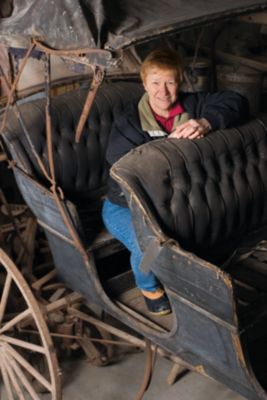 Then, get fired up. "If you've got the interest, put some enthusiasm into a letter," Naumann recommends. "Then get people to coordinate different aspects of the reunion. Get excited about it."
Once a committed leader is chosen, appoint a few committees or other volunteers to handle the money, invitations and other communications, program, location, food, fund-raising, transportation, set-up, and cleanup — and make sure they talk regularly.
"Try to involve people willing to help. They can fold invitations, put on stamps, or handle games and demonstrations," Naumann says. "We have one family member who can't get around but she helps every year."
Involving all generations — particularly children — in age-appropriate activities such as games and icebreakers related to family history serves the dual purpose of keeping tradition alive and keeping attendees active and interested in returning, Wagner says.
Finally, in planning a reunion, embrace your family history.
At the Seidemann gathering, a large pole barn filled with family archives highlights the family history as attendees display keepsakes, furniture, farm tools, and equipment. "My grandmother's wedding veil, photos, and flowers are in a shadow box," Naumann says. "We have baptism certificates, Bibles, and military documents."
The Seidemann family story also is told in an old rope bed, gasoline lanterns, buggies, a wagon with milk containers, plows, and a horse-drawn rake that Naumann used when she worked the farm with her father.
Teresa Odle, an Albuquerque, NM. writer, attends the Vie/Odle reunion near land homesteaded by her husband's family in the early 1900s.