Lawn Fertilizing Tips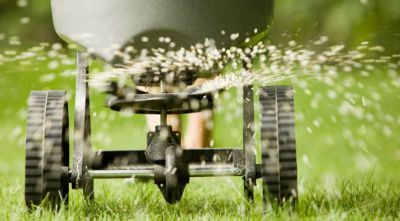 Fertilizer will encourage new growth
Adequate fertilization is essential in helping your lawn reach its full potential. Fertilizer will encourage new growth, generating a much lusher, thicker lawn. It counteracts wear, helps prevent weeds and keeps your lawn looking its best.
An important tip to remember is that if grass is going to thicken, it needs to do so before mid-July. Fertilization in early spring will cause rapid proliferation, leading to thick, lush turf. Apply the first application at about the time you first mow your lawn.
The total amount of plant food you use throughout the growing season should be based on soil type and turf condition. A good rule of thumb is to apply 3-4 lbs. of nitrogen per 1,000 sq. ft. per year.
You should plan on feeding your lawn twice a year:
You will need to fertilize cool-season lawns, such as bluegrass and tall fescue, in late fall and late spring.
You will need to fertilize warm-season lawns, such as Bermuda grass and St. Augustine, in late spring or early summer and again in late summer.
The process of spreading fertilizer is actually simple:
You should never fertilize a dry lawn.
(Note: If your lawn is visual browned, withered from dehydration, it is not a good idea to apply fertilizer. However, if you are using a granular fertilizer, you must apply it to a dry lawn to keep it from sticking to the grass and burning it, and then water it in.)
Always water after fertilizing.
If the weather is hot, wait until it cools before you fertilize.
You will need to fertilize along the edges of the lawn. If there is an edging, keep one wheel on the edge.
You will need to walk at your normal pace.
Once you have reached the end you will need to Shut off the spreader.
You will need to overlap wheels as you work to avoid yellow stripes.