GARDENING MYTHS
Are time-honored garden methods fact or folklore?
By Elizabeth Diane Mack
Photography from iStockPhoto.com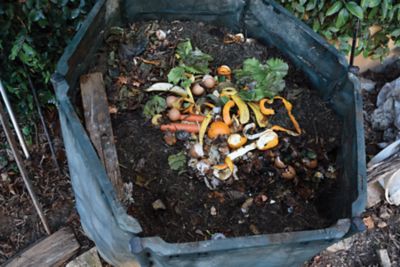 Gardeners often follow advice that's been handed down through the generations without knowing whether the information is based on actual proven research. Here, we've taken a few of the most popular gardening traditions and tried to separate the fact from fiction.
MYTH: BAKING SODA CURES BLACK SPOT ON ROSES
Many rose enthusiasts swear by baking soda's ability to kill fungal diseases, most commonly black spot (Diplocarpon rosae). While early research in the 1930s bore this out, later advanced research did not. Baking soda combined with horticulture oil is effective in reducing, though not eliminating, powdery mildew, and only worked when the disease incidence was low, research out of Washington State University has shown. Sodium bicarbonate alone had no effect.
In other research, powdery mildew was not reduced on lilacs, marigolds, and rosemary when treated with sodium bicarbonate, and actually caused severe foliar damage. The best treatment for black spot is prevention. Planting roses in full sun, using coarse, organic mulch, removing diseased leaves, and keeping well-watered during hot summer months can help prevent fungal disease.
MYTH: COFFEE GROUNDS IMPROVE SOIL ACIDITY
Spent coffee grounds have been used for numerous cure-alls, including controlling slugs, preventing weeds, repelling rodents, and much more. The most common belief is that brewed grounds will increase soil pH, or acidity. Research, however, doesn't back this up and, in fact, has shown that decomposing coffee grounds fall somewhere between 4.6 (mildly acidic) to 8.4 (somewhat alkaline). The pH also changes over time, so one can't assume the grounds will stay acidic.
Coffee grounds can suppress some fungal rots and wilts, such as Fusarium, Pythium, and Sclerotinia, as well as some bacterial pathogens such as E. coli and Staphylococcus, research indicates. Using a thick layer of pure coffee grounds as mulch can prevent air and moisture from reaching plants, so it's best to layer spent grounds thinly and top dress with wood chips. It's even better to toss the coffee grounds into the compost pile.
MYTH: HUMAN HAIR REPELS WILDLIFE
If you've ever piled hair clippings around your vegetable garden only to find rabbits nibbling on your lettuce, you know this doesn't bear out. But researchers at Mississippi State University tested hair clippings for their commercial fertilizer benefits, comparing the productivity of four plants — lettuce, wormwood, yellow poppy, and feverfew — under different treatments.
Their findings indicated that plant yields increased for hair-fertilized plants compared to the untreated controls. Faster-growing lettuce and wormwood did better with commercial, inorganic fertilizers. Higher yields from the hair were found in yellow poppy, though no difference in the feverfew. Because it takes so long for hair to degrade and release nutrients, hair worked better on slower growing plants, researchers concluded.
MYTH: EGGSHELLS INCREASE CALCIUM LEVELS
It's reasonable to assume that adding eggshells will increase soil calcium, as eggshells are 95 percent calcium carbonate. However, eggshells are not water-soluble and must be finely ground to have any effect in soil. Eggshells that were simply hand crushed had no effect, according to Iowa State University research.
Nitrogen from protein residues in eggshells will eventually add nutrients to the soil, but it's a very long, slow process, says Alabama Extension. Even in a compost pile, egg shells take forever to decompose. While throwing used eggshells in your vegetable garden won't necessarily help, they won't hurt anything either.
MYTH: BANANA PEELS INCREASE SOIL POTASSIUM
Gardeners have commonly used peels to increase the blooms on roses and other flowering ornamentals, and it's a fact that banana peels contain high levels of potassium. However, when banana peels are buried, soil micro-organisms must work overtime to break down the peels, leeching significant amounts of nitrogen from the soil, a necessary nutrient for greening up plants.
Banana peels are great — in a compost pile. Alongside other nutrient-rich organisms, they'll decompose and make a nice top dressing for your garden. While gardening folklore will likely continue to be passed down, most are myths with little scientific research to support the theories. Research studies are done in labs or on large-scale agriculture operations, not in backyard settings, and agricultural practices are often misapplied to backyard landscapes. Practices grounded in science and products used according to label directions are the best management solutions for your backyard garden. ★
Elizabeth Diane Mack is a writer from Nebraska.