Overcoming Tragedy
By Dorothy Stephenson
Photography by Thomas Lee
One cold January day in 1985, David Voldseth was loading hay on his expansive Montana ranch. A valve on the loader had been unreliable, but Voldseth was in a bit of a hurry and decided to manage until he could get it repaired.
As Voldseth turned to look behind him, the loader malfunctioned, with disastrous results.
"Unbeknownst to me, the loader went up and the bale rolled down and hit me in the back," Voldseth recalls. "I knew immediately; my legs were numb."
The hay bale's impact crushed several vertebrae, meaning that this fourth-generation rancher would never again walk his 25,000-acre Bonanza Creek Country Ranch.
Turns out, he didn't need to.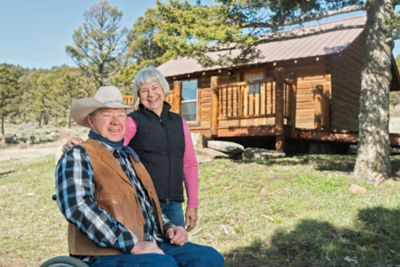 Making Changes
His situation was challenging, but Voldseth's determination, positive outlook, faith, and family all helped him to keep his eye on the bigger picture.
"I always knew I wanted to run the ranch," he says. "When I had the accident, it didn't change the fact that that's what I wanted to do. I just changed how I did it."
Before the accident, Voldseth used horses to move about the ranch, but he traded his spurs for a gas pedal — a UTV he uses to check cattle and fences and to monitor water pumped to the livestock. He also retrofitted tractors so he could drive them and wisely moved himself into a managerial position.
Though there are few chores he can't do, he acknowledges that he can't do everything he once could.
"I can't change the oil in the tractors anymore because I can't get under it to pull the plug," he says.
But he has remained an active rancher because of the moral support and encouragement from his wife, June, and their family.
"(June) didn't do things for me that I could do for myself," he says. "She wanted to make me figure things out for myself rather than just ask for help all the time."
Voldseth also handed day-to-day decisions regarding the ranch, which has been in his family since 1877, over to his son and daughter-in-law, Vance and Kim.
"We have a really good working relationship," Voldseth says. "We talk every morning. He makes a lot of the decisions, and they've all been good."
Voldseth's two daughters live with their families in New Zealand.
For the rare times that Voldseth looks back on the accident, he wishes he would have slowed down to check that valve on the tractor.
"I knew the valve wasn't functioning properly, and I was in a hurry," he recalls. "Plus, I was under a lot of stress at the time. Stress and agriculture … it's a real thing. Sometimes you don't think as clearly as you ought to."
He urges farmers and ranchers to consider the risks when working on their farm, especially with equipment that isn't in complete, quality, working order.
Although Voldseth's life changed since that winter day in 1985, he continues to overcome, push forward, and learn new things about himself and his body.
"Adversity," he says, "builds strength and character."