Organic pioneer
Walt Davis saved his ranch and restored its soil by going all natural — in the 1970s
By Marti Attoun
Photography by Gerard Attoun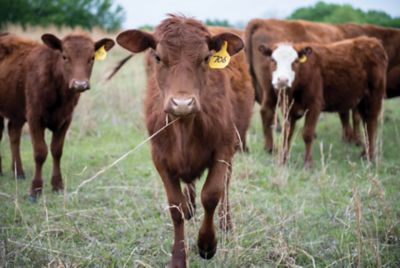 Driving his all-terrain vehicle, Walt Davis heads out to check his cows grazing in 23 permanent paddocks across his 130-acre ranch in Calera, Okla. Walt's paddock system allows him to concentrate his herd's grazing in one area for a short time. Then those forage plants get a chance to recover before being grazed again. Walt's goal? A ranch that "runs on sunshine, rainfall, and good management."
Now 80, he's spent his entire life cowboying and ranching in west Texas and southeast Oklahoma, following in the boot prints of his father, grandfather, and great-grandfather. After decades of firsthand experience and seeing what works and what doesn't in ranching and farming, Walt now shares his experiences as a consultant and guest speaker and in several books he's written, including How to Not Go Broke Ranching.
After graduating with a master's degree in animal husbandry from Texas A&M University in 1961, Walt took over the 2,750-acre Davis Ranch in Bryan County, Okla., and welcomed the latest ways and sprays to control weeds and pests, increase soil fertility and boost the animals' nutrition and health. Calving date was moved to January because research showed that calves born in that month had the highest weaning weights. As promised, results were quick and spectacular, Walt says. Yields from hay, grain, and pecan crops shot up. Cattle production increased, too. But operating costs for ranchers and farmers also rose spectacularly. And equally scary, Walt began to see the long-term costs to what he calls "biological capital," or the wealth in the soil and air.
"Results that we had obtained with 50 pounds of nitrogen fertilizer now required 100 pounds, plus potassium. Weeds were a bigger problem than they'd been when we used no weed spray," he says. As cows became larger with supplements, the ranch could support fewer of them and the animals needed more supplements — minerals medicated with antibiotics and vitamins, vaccinations for five or six different diseases, and regular spraying for horn flies. Machinery and fuel heaped on more costs and in 1974, the Davis Ranch teetered on bankruptcy.
GOING NATURAL
To save the ranch, Walt knew he had to drastically cut expenses and he stopped using fertilizer altogether. He took a holistic approach to rebuilding the soil naturally with good grazing practices. "In using broadleaf poisons, we took out an entire class of plants, losing their abilities to concentrate certain minerals and their unique nutrient compounds," he says. For example, by killing pecan nut casebearers with insecticides, he also killed green lacewings and ladybugs that preyed on plant aphids. The result was an explosion of aphids. And by selecting for larger cattle able to eat more corn in the feedlot, he'd help create cattle that were unable to thrive, as they had for hundreds of years, on forage alone.
After several years of farming without chemicals that poisoned the pests and soil and depleted his bank account, Walt's ranch saw an explosion of diverse life. Predator species returned to control their prey. In 2000, after years of organic farming, he completed the few steps needed to be certified "organic" and was able to sell his grass-fed beef and lamb at premium prices.
In 2004, Walt sold the family ranch, but continues to research and learn as he restores his present worn-out and washed-out Calera, Okla., farm once used for growing peanuts. Little by little, he's reintroducing new grass species. "I've found that the closer I can model my management to the way the natural world works," he says, "the better I like it." ★
Marti Attoun is a Joplin, Mo., writer