Hitting The Highway | Summer 2015 Out Here Magazine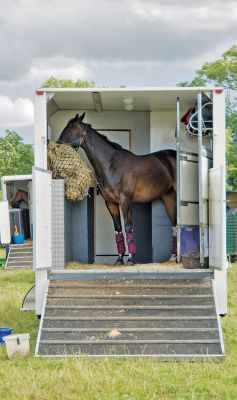 Planning your horse's relocation can ease his transition
Photography by iStock
Relocating to different parts of the country for job changes or family obligations are increasingly common. If you own horses, chances are you're taking your equine friend with you.
A significant move presents different challenges than merely a trip across the county. Stress levels for horses vary with age, personality, and the amount of time spent in a trailer. But a bit of thoughtful planning can reduce the impact of a big transition for your horse.
One of the most important factors of a successful move is making sure your horse stays hydrated, says Dr. Sarah Ralston, a veterinarian with the Rutgers University Equine Science Center.
One trick is flavoring your horse's water before, during, and after the move with apple juice, she says, which serves to mask any flavors or odors from new water sources and provides taste continuity for the horse.
"The key thing is to start flavoring his water beforehand so you can get him to drink well when you get to the new place, especially if he's a sensitive or aged horse," says Ralston. "Some horses are very fussy about the flavor and/or odor of their water."
By acclimating him to a certain taste and then carrying that over to his new water, you can help ensure he drinks enough. The flavoring can then be gradually cut back once he's accustomed to his new home.
Protect his immune system during this stressful time by adding vitamins A and C to his diet for the first three or four days of the trip, Ralston suggests.
"If the horse is going to a totally new environment and you know he's going to be stressed, he'll benefit from the addition of these vitamins," she says.
She recommends a dosage of 5g twice a day of Vitamin C and 1,000 units of Vitamin E once a day.
"Grind up the Vitamin C, and bite the end off a 1,000-unit capsule of Vitamin E and add to his feed."
Within two to three weeks of your move, vaccinate your horse or give him a booster.