If you can garden, you can keep honeybees, assures one proponent of backyard and farmyard beekeeping.
The rewards of caring for your own hives are many: better pollination of flowers, trees and crops; strengthening the waning honeybee population; and last but not least, honey.
"We do need more hobby beekeepers," says Gunther Hauk, founder and caretaker with his wife, Vivian, of Spikenard Farm and Bee Sanctuary, in Floyd, Va.
Like gardening, beekeeping requires careful planning, the right tools, and plenty of hands-on care, particularly during warmer months when bees are most active.
Now's the perfect time to read up on beekeeping, join a local group, learn best practices from beekeepers in your area, take a beginner's workshop, order the equipment you'll need and assemble a sturdy hive.
Come warmer weather, when it's time to introduce your bees to their new hive, you'll have all you need at the ready and will feel more confident in your new role as apiarist — or beekeeper.
Honeybees have been domesticated for at least 4,500 years, and there are multiple approaches to their care.
Hauk advocates beekeeping methods that are sustainable. The end goal, he believes, should be to raise healthy bees, not to focus on honey yield. Although if the bees make enough sweet honey for themselves and there's extra for you, all the better, he says.
"They are the only bee that makes more honey than they need in a year, and that is for us," he says.
A really good reason to raise bees is to "enliven the landscape," Hauk says. Their industriousness is fascinating to watch: gathering nectar and pollen from blossom to blossom, navigating flight paths back and forth from the hive, and building honeycomb with beeswax.
Some 40 to 70 percent of the food we eat has been pollinated by bees, Hauk says, making their activities both enjoyable to witness and critical for our food supply.
Getting Started
Bees can be raised in both urban and rural environments. They'll fly three miles to forage, so your back yard, garden, or farm will provide only part of their pollen. Cities, with varied yard plants and parks, can contain a remarkable biodiversity.
"There are few natural landscapes that don't have enough for the bees," Hauk says.
One concern is heavy application of pesticides. If the hive is near fields or orchards being sprayed, the health of the hive may suffer.
Before you install a hive, check local ordinances if you live in town or city limits. Even if you live in the countryside, let neighbors know you are keeping bees. A gift of a jar of honey is a nice way to reward neighbors for their pollen and nectar contribution.
You can build or order a hive. Various types are available, but the most common, by far, is the Langstroth beehive, a top-opening wooden box with removable, parallel frames for honeycomb.
A top-bar hive, which doesn't have removable frames but has, instead, removable bars to which bees suspend honeycomb, is a good option for older beekeepers or anyone who doesn't want to handle the heavier and bulkier wooden boxes, Hauk says. Lower honey production is a tradeoff, but it's a tradeoff many backyard beekeepers are happy to make.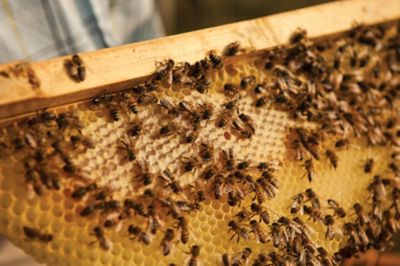 Hauk's bee sanctuary uses six different hive shapes.
As for the honeybees themselves, there are many types — or stocks — including these most common in the United States: Buckfast, Carniolan, Caucasian, Italian, and Russian.
Talk to beekeepers in your area to find out which types thrive in your climate, and order stock from a local source to start with well-acclimated bees.
Beginning beekeepers often have concerns about getting stung, Hauk says, and they will get stung from time to time. The best practice is to wear light-colored clothing, avoid cologne or aftershave, and approach bees cautiously and slowly. A full bee suit and gloves are not necessary in most cases, but a hat and veil will protect against painful face and neck stings.
"My take is there is far more fear than the reality," Hauk says. But people prone to severe reactions could be at great risk, and should definitely consider beekeeping in a bee suit, he says.
Hives should be on a platform of some sort to elevate them off the ground. If you have wildlife that likely will raid your hives, such as bears and skunks, place hives on a platform six feet up.
But the biggest threat to bees is not a lumbering bear or an odiferous skunk, but tiny, parasitic varroa mites. These mites can wipe out entire colonies and have killed up to 80 percent of the honeybees in some states.
Some regular loss of colonies is to be expected — 10 to 15 percent — but mites and other stressors, categorized together as Colony Collapse Disorder, are decimating populations.
These losses shouldn't deter beginning beekeepers, Hauk says, but should instead further motivate them to do their part, one hive at a time, to help restore the honeybee population.
Start reading, ask questions, Hauk says, and "Go into beekeeping with joy and courage."
Laurena Mayne Davis writes from Western Colorado, where bees have an abundance of blooms in orchards and vineyards, along with native plants.