Holding On To A Memory | Winter 2013 Out Here Magazine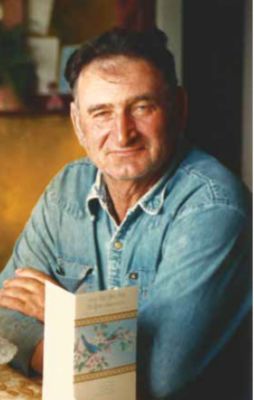 Son treasures the Case® knives carried by his father
The late John Kleinsasser kept a Case ®Trapper knife in his pocket at all times.
By Noble Sprayberry
Photography courtesy of Ron Kleinsasser
The Yellow Case® Trapper knife always served a purpose on the farm, such as cutting twine off hay bales, cleaning fresh vegetables, and even serving in the occasional veterinary procedure.
But now, the worn Trapper fills a very different role for Ron Kleinsasser. The trusted knife provides a touchstone to his late father, a man who kept a Trapper in the pocket of his jeans, or on the kitchen counter, or just about anywhere else he might need a reliable blade.
"In all of the activities on the farm, there was one thing I always remembered seeing — a Yellow Trapper," says Kleinsasser, who has written about the emotions tied to the knife:
"For almost 40 years, it was there through the memories of my childhood and youth, my years at college, my wedding, and the birth of my daughters. Now, my dad is gone."
Kleinsasser lives on 8 acres of his family's farm outside Saskatoon in the Canadian province of Saskatchewan. In addition to a fulltime job, he hobby farms, including tending a heritage garden and raising chickens, ducks, and turkeys.
And he still has two of the Yellow Trappers used daily by his father, John. The blades are worn from repeated sharpening and hard labor.
"My father was a very practical type of person," Kleinsasser says. "The knives were utilitarian. I've seen him use one as a pry bar and as a screwdriver. One was with him all the time."
Sometimes, he would misplace a knife, but he never went long without a Case, Kleinsasser says. "He lost one and he replaced it with another Yellow Trapper. Then, he lost that one, and he replaced it with a Case® Hunter," Kleinsasser says. "As a matter of fact, after he found the other ones, he just cycled between them."
The work life of one well-used Case® Trapper ended when his father passed away, however. It now rests permanently on Kleinsasser's kitchen counter by the telephone as an easily-seen reminder of the father who meant so much to him.
Kleinsasser writes, "Now that Yellow Trapper lies on the counter, never again to be on call ready to be pulled from the front pocket of my dad's jeans to handle the task at hand."
Kleinsasser owns five of his father's Case® knives, as well as more than 30 of his own. His collection expanded after the death of his father nine years ago.
Each year, he buys two Case® knives commemorating the date of his father's death: March 8, 2004.
"I give my brother one at Christmas time each year, and I think we each have nine of those knives," Kleinsasser says.
Like his father, though, Kleinsasser also appreciates the practical usefulness of Case® knives. "I have at least three Trappers that I use, including one in my summer kitchen, one in my car, and one in my pocket," he says. "I always know where there is a knife."
And with one particular knife is a particularly sweet memory, he writes:
"As I pick up that Yellow Trapper my mind is flooded with the memories of my life and his, how I was raised and who he was. Now when I reach into my jean pocket, my fingers touch my Yellow Trapper and I remember my dad."
Noble Sprayberry is a frequent contributor to Out Here.