Featured Articles from the Spring 2011 Issue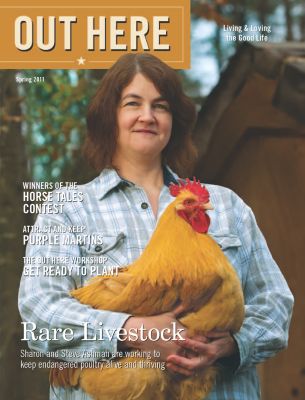 Out Here Magazine - Spring 2011
Rare Livestock
Point to any bird in Steve and Sharon Ashman's flock of more than 300 chickens, ducks, geese, turkeys, and peafowl, and they easily list off the characteristics of the breed.
Muscovy ducks communicate by hissing rather than quacking; Royal Palm turkeys are ornamental, rather than a meat bird; and black-and-white Light Sussex chickens are calm and friendly.
These birds are all unique, yet they have one very significant thing in common: all are endangered breeds that the Ashmans, of Chocowinity, N.C., are trying to help preserve and thrive.