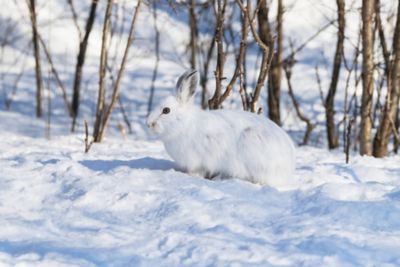 Winter Rabbit Hunting
By Ed Harp
One of the benefits of rabbit hunting is that it doesn't require much. An ordinary shotgun, a box of shells, and a pair of comfortable boots will get you going.
Rabbit hunting in winter, however, requires a bit of a change in strategy as the animals' behavior adjusts for harsher conditions.
Weather, forage, and cover will push their numbers up or down and force them to travel long distances in search of a better home.
If you hunt on your own, or on familiar, property, think about where you've seen rabbits and how many you saw. Then, hunt the high-percentage acres. You can't harvest them if they aren't there.
These tips will help make your winter hunt a successful one:
Think about forage
Rabbits, like all living creatures, have to eat to stay alive. They're never far from their food source.
If possible, they'll be around clover. Old pastures and hay fields will often have enough clover left in them to hold a surprising number of rabbits. They also love home vegetable gardens and truck farms. They love the stuff we let rot on the ground.
As the winter wears along and leafy greens become harder to find rabbits will migrate to places that offer a rougher fare. They'll eat bark, bushes, and low-growing briars and brambles. Savvy hunters follow them.
Tip: Clover's their first choice but they rarely ignore sweet peas, and they never ignore a berry patch.
Find their hiding places
Never forget that rabbits always need a place to hide. After all, rabbits aren't exactly fearsome critters. They need cover for protection from just about everything else in nature.
One of the first places any rabbit hunter should look for them is along fence rows.
Erosion control plantings are great places, too. The first thing that comes to mind is a thick multiflora rose patch, but there are others. They also like brush piles, and the thicker the better.
No matter what kind of cover you're hunting, however, make sure you go slowly, make lots of noise and keep a full-circle lookout at all times. Rabbits don't always run out in front of you. Sometimes they'll let you walk directly over the top of them before they run out straight behind you.
Tip: The nastier the weather — cold, snow, rain, wind — the tighter they hold in cover and the harder they are to shake loose.
Don't get discouraged
Rabbits are not all that easy to shoot. They're quick and they run in a left-right zigzag pattern. If you don't shoot a lot, you'll probably miss a few. But hey, that's part of the hunt.
Tip: Sweep your gun barrel from behind the rabbit and shoot where he's going to be, not where he is or has been.