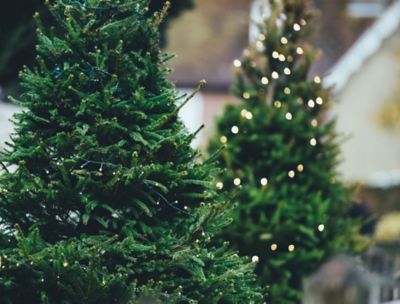 What to Look for When Choosing a Tree
Species
There are five common types of Christmas tree: fir, pine, spruce, cypress, and cedar. There are several types of tree in each species category, making for more than 16 different trees from which to choose overall.
Size
This might be a no-brainer, but sometimes it's hard to remember how much space you have for a tree. Always measure the height and width of your proposed location indoors before going out to cut down a tree.
Lifetime
Most trees will last about a month, but fir, spruce, and cypress will stay fresh longer than pine and cedar. If you're getting a precut tree, always ask when it was harvested so that you get the most out of what you buy. Whenever possible, cut the tree fresh!
Four Dependable Christmas Tree Varieties
Douglas fir
One of the most popular varieties, Douglas fir have strong branches for holding ornaments, a classic Christmas tree shape, and bushy needles that stick out in all directions. Douglas fir will last about 4 weeks.
Fraser fir
Also a popular choice, Fraser fir are known for retaining their needles for a longer period of time. Frasers are naturally dark green, are easy to groom and shape to your needs with short, soft needles, and have a strong, pleasant aroma. Fraser fir will last about 5 weeks.
Balsam fir
Similar to Fraser fir, balsam fir have a traditional Christmas tree look but with spaced out branches for those long or large ornaments. The dark green needles and classic sweet sap scent of balsam make it ideal. Balsam fir will last about 4 weeks.
Blue spruce
To spice things up, try blue spruce for their iconic bright blue-green needles. Hang strings of popcorn and cranberries on this tree for a brilliant contrast. Blue spruce trees have stiff branches, great for heavy ornaments. Take note that the needles are sharp, which can make the tree difficult to handle. However, once set up it will defend your fragile ornaments and gifts from climbing cats and curious children. Blue spruce will last about 3 weeks.
Christmas Tree Care Tips
If the tree has been left cut for longer than 6 hours, cut 1/2 inch off the bottom of the trunk to allow the tree to absorb water.
Fill the tree stand past the bottom of the trunk with water. Always check to make sure there is water in the stand: If the stand runs dry, the tree will seal up and not be able to absorb water.
In the first few days, the tree will drink a gallon of water (or more) per day. Check the water level often.
Christmas trees do not need sunlight and should be placed away from heat sources such as baseboards, woodstoves, and vents. These will shorten the life span of your Christmas tree.