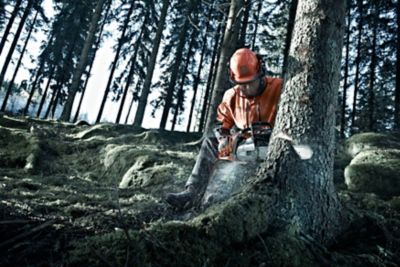 Felling a Tree
1. PREPARATIONS
It is time to fell a tree once you are familiar with your chainsaw. Thinking one step ahead is one step in felling a tree safely and efficiently. Never work alone in the forest. Have someone with you. A mobile phone is a good idea, as it lets you quickly call for help if you need it.
2. FELLING DIRECTION
Choose a tree to fell, then you should decide what direction you want it to fall. Consider: Is the tree leaning? Do the branches hang in one direction? Which direction is the wind blowing? Fell the tree in the direction it would naturally fall due to slope for the easiest direction. Another direction requires a special technique, more effort, and may be impossible. If you can fell the tree across a log, rock or stump, it is ideal. If other people are in the area, the safe distance for them is at least two tree lengths.
3. LIMB THE LOWER TRUNK of The tree
Cut away any branches that could get in the way. Never to cut above shoulder height with your chainsaw. Never stand directly behind the saw. The tree trunk should be used as a barrier between you and the saw.
4. CLEAR the area
Clear the ground around the tree and a few yards behind it. You should be able to take a few steps backwards, as the root end may spring up.
5. FELLING A TREE IN THE RIGHT DIRECTION
To make a tree fall in the chosen direction you use "directional felling". "Directional felling" steers the tree as it falls to the ground. To create a directional hinge you first cut out a wedge shaped piece, using a "directional cut", on the same side you want the tree to fall. Then, make the "felling cut", by cutting horizontally from the opposite side. You should not saw through the entire stem, leave a hinge of about 3 cm to control the felling direction.