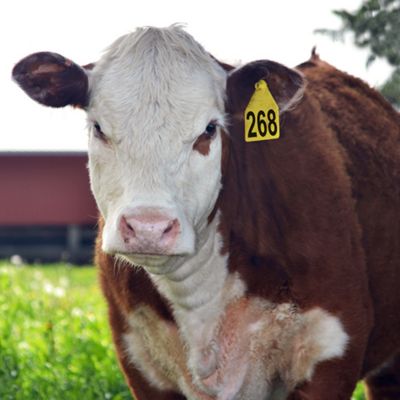 Minerals for Cattle
Providing your beef or dairy cattle with proper nutrition requires adding minerals that are underproduced or missing in their feed or pasture forage. Adding minerals is an easy and cost-effective way of increasing milk quality and production, as well as the quality of your beef and the overall health of your herd. Having your soil tested to see what minerals are present and which are missing is the best way to begin. Sending a small soil sample to your local farm extension can provide you with a complete analysis of the soil and the minerals it lacks. Adopting proper cover rotation, grazing, no-till cropping and fallow periods all work together to bring health back to your pastureland and in turn to your cattle's forage. Along with these responsible and organic ways to increase your soil and forage's mineral content, supplementing the right trace minerals, like cobalt, copper, iodine, iron, manganese, selenium and zinc, in the proper amounts will create the healthiest herds possible.
Cobalt
Herds located in the Southeast, Northeast and Central parts of the United States are generally deficient in cobalt. If your cattle's feed comes from these regions, it is highly likely that your cows need cobalt supplements. If your feed is a combination of corn, milo and wheat, the cobalt levels are approximately .08, .19 and .15 parts per million, which means the .08 corn diet is deficient by .02 and requires a cobalt supplement. The primary symptom of cobalt deficiency in cattle is a lack of appetite. Cobalt and vitamin B-12 injections, along with vitamins A and D are important for new cattle. Consider adding more grasses to your forage as opposed to legumes since these are higher in cobalt.
Copper
Feed lots produced from soil in the upper Midwest, West Coast, Florida and in the Virginia/Maryland area are generally low in copper. Feed from Central Texas and Southwest Florida can also have lower copper levels due to the increase of molybdenum in feeds from these areas. Beef cattle require 8 parts per million (ppm), which is now similar to the needs of dairy cattle. The need for added copper is primarily found in feedlots that are corn or wheat based. Milo-based feed diets do not generally require a copper supplement. Copper deficiency is usually marked by reduced hair pigmentation. So much so that red cows can look yellow and black cows can appear gray. Copper is necessary to proper immune function, so a lack of the mineral can cause a variety of health problems in your herd.
Iodine
There is a marked lack of iodine in the plants and soil of the Northern United States. Some plants from this area also contain goitrogens, which inhibit the absorption of iron in both cows and people. Goitrogen-rich plants include anything in the cabbage family, and goitrogen can also be found in soybean meal, rapeseed meal and cottonseed meal. The standard iodine requirement for cattle that are still growing is .5 ppm up to 50 ppm. Corn, wheat and milo-based diets all need additional iodine supplement for proper cattle development. Diets lacking in iodine slow a cow's metabolism and can result in the development of goiter. Because the metabolism needs to work harder to keep cows warm during colder months the need for iodine is increased.
Iron
Iron is difficult to trace in soils of any region, so adding an iron supplement is important for the health of your herd. Requirements for steers are 50 ppm and for other cattle from 400 to 1000 ppm. Iron levels in wheat feeds tend to be the lowest compared to milo and corn. When cows are lacking in iron they can become anemic and susceptible to intestinal parasites, leading to internal bleeding. Young cows generally need more iron than mature cows because of the increase of blood volume during growth.
Manganese
Plants and soils in the upper Midwest and in both coastal areas are deficient in manganese. Cattle require at least 10 ppm of the mineral and can tolerate up to 1000 ppm. Corn-based feeds tend to be lower in manganese. A lack of manganese reduces the growth rate of cattle and can contribute to liver abscess.
Selenium
Certain areas of the United States have too little selenium in soil and plants and other areas have too much. Understanding healthy levels of selenium as opposed to toxic levels can help you protect your cattle from either condition. Beef cattle require .1 to .2 ppm of selenium. The tolerance level for the mineral is only .2 ppm, so it's important to use care when adding selenium to your herd's diet.
Zinc
Areas of the Pacific Coast as well as in Arizona and Utah are deficient in zinc. Cattle need at least 30 ppm of zinc in their feed. Wheat feeds are a richer source of the mineral, but supplementation is always necessary in corn and milo-based diets. Signs of zinc deficiency include a reduced appetite and rate of weight gain. Scabs and white patches of hair are also common on cows that are deficient in zinc, as well as increases in foot rot and a decrease in the ability of wounds to heal.

Tractor Supply has a variety of minerals available to supplement your herd's diet. From mineral blocks to mix-ins, Tractor Supply can help your cows be at their best all year around.