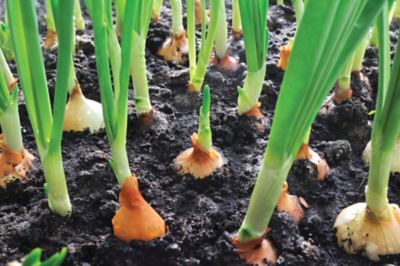 Winter Onions
By Jodi Torpey
Are you the kind of grower who's ready for a new gardening challenge? If so, you might enjoy growing winter onions.
Winter onions are planted in fall and spend the winter in the garden so they're ready to harvest in early spring. If you're up for the challenge, you can get started with help from onion experts, such as Dr. Becky Sideman.
Sideman, an extension professor in sustainable horticulture and a researcher with the New Hampshire Agricultural Experiment Station in Durham, N.H., has researched ways to overwinter onions in a cold climate and has a few words of advice for other growers: Don't be afraid to experiment in your own garden.
The three keys to overwintering onions include selecting the right varieties or cultivars, planting them at the right time, and giving plants winter protection, she says.
"One of the biggest problems with overwinter plantings is that onions are biennial, and once the plants experience winter, they tend to flower or bolt (go to seed)," she says. "Varieties differ greatly in their susceptibility to bolting after experiencing cold temperatures."
To overcome bolting, growers should choose onion varieties that are known to overwinter in their region. The research in New Hampshire included 18 different varieties of bulb onions (Allium cepa) . The varieties found to resist bolting included Bridger, Gatekeeper, High Keeper, Keepsake, and Tough Ball yellow onions; and Desert Sunrise and Electric red onions.
The research showed "choosing varieties that have been selected for overwintering, ideally in your region, will decrease the chances of bolting and increase the chances of getting nice bulbs," Sideman says.
Sometimes winter onions are sold as "autumn planting onion sets" or sets produced of bulb varieties suitable for fall planting. Check with your county's extension office to see about specific recommendations for your region.
Multiplier or potato onions (Allium cepa aggregatum) are another type of overwintering onion. These onions grow small bulbs similar in size to shallots. Multiplier onions grow in clusters, like potatoes, and one set can grow as many as 8-12 small, but tasty, onions. Multiplier onions may be another way to avoid onion bolting if you're satisfied with smaller bulbs.
The combination of the right varieties and matching them to their prime planting dates makes for successful overwintering. Planting dates will vary by hardiness zones, but most fall-planted onions are in the ground between September and December.
Multiple planting dates, spread over several weeks, are a good method to find what works best in your region for reducing the risk of bolting and increasing the chance of growing market-sized onions.
Fall onion planting is similar to spring planting. Whether planting in the garden or a raised bed, onions need a sunny location. Plant either onion sets or onion transplants about 1 inch deep and about 4-6 inches apart in rich, well-draining soil. Water after planting.
Fall-planted onions can be protected with a layer of straw mulch, row cover fabric, or no protection at all, Sideman says. In the New Hampshire growing experiment, onions were planted four different ways, but onions showed consistently good winter survival in low tunnels covered with row cover cloth, she says.
When onions start growing in spring, the plants need irrigation to develop good-sized bulbs. Remove the low tunnels when daytime temperatures reach 60 degrees and nighttime temperatures remain above 20 degrees, Sideman says. Onions are ready to harvest when the green tops have fallen, but before the foliage dries completely.