Molly Reynolds' goals tend to be set at the higher end of the bar. How many people actually plan to compete in the Olympics? Molly does.
She'll reach that goal, too, with the same hard work, dogged determination, and faith that she's shown in her passion for the sport of dressage.
Molly cultivates that passion at Red Raven Dressage, her training barn in Pawling, N.Y. The recently-opened training barn was another of Molly's lofty goals and an important step on her road to the Olympics to compete in dressage.
Dressage is a form of riding often referred to as "horse ballet." The horse performs a series of movements, cued by the rider's minimal aids, with the goal of appearing fluid and smooth. Dressage develops a horse's natural athletic ability and the skill of its rider through teamwork.
Competition performances, known as tests, range from amateur to Grand Prix levels. Tests are comprised of a number of movements performed in a formalized sequence. Judges score a performance based on the horse's gaits, submission, impulsion, execution of movements, and the rider's performance.
"Dressage is appealing to people who are perfectionists, who are very meticulous, because it takes a lot of patience," says Molly, 26. "Certain movements can take a month or two to learn and it takes a lot of patience with your horse. Dressage is very hard work. You really have to invest the time with your horse, and the partnership that you form with your horse is very strong."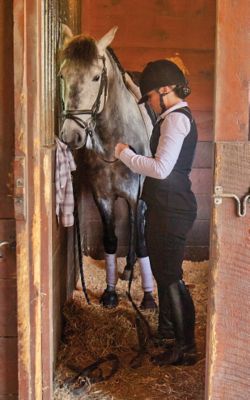 The sport attracts a wide variety of riders.
"There are as many men as there are women," she says. "We're also seeing very hardworking young riders. They're extremely dedicated to dressage because they know it's going to take a while to get to the upper levels."
Dressage is also an option for older riders looking for something challenging but not as taxing as other forms of riding.
"You don't have to be so physically active on the horse," Molly says. "You're still doing a lot, but it's not as hard on your body as other disciplines."
ON HER OWN
Molly has always been an avid rider and learner. At Lake Erie College in Ohio, she began competing in upper-level dressage. After college, she was the stallion barn manager at a Florida farm, which sponsored her to ride some of their more advanced horses.
The farm specialized in Pura Rasa Española (PRE) Spanish dressage horses. It was there she fell in love with the breed.
"They're similar to Andalusians, but they're pure stock. The breed is starting to taking off in dressage and they're beginning to be recognized in the sport," she says.
Molly's family liked the breed so much they began their own breeding program at Red Raven Farm in Hudson, Mich., where they have three breeding stallions and several broodmares, producing a small crop of foals each year.
Two of the stallions are her up-and-comers at her Pawling training barn, and she's working to garner more interest in the PRE horses.
The decision to make the leap to her own New York facility in September 2013 was not one she took lightly.
"It's definitely not as easy as it sounds," Molly says, with a laugh. "I was travelling back and forth quite a bit between the breeding farm in Michigan and New York, where I have some clientele. I wanted to train out of my own business because I need to establish myself. I've trained with quite a few former Olympians and well-know names in the industry, but I need to be recognized on my own."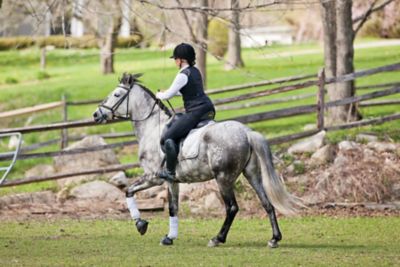 "Unfortunately, if you don't have the finances, you can't do anything," she continues. "Since I'm a young person who works a part-time job (at her local Tractor Supply store) in the winter, I don't make a million dollars. I'm fortunate to have quite a few sponsors."
She has her hands full with her young prospects, her own training and instruction of other riders, and being the sole proprietor at Red Raven Dressage.
"I'm not completely off the ground yet," she says. "You don't make a whole lot of money the first couple of years. If I don't get my coffee in the morning, that's okay as long as the horses get their feed."
When others question how she can make a career of her dressage passion, Molly is ready with the answer. "I tell them that I have extraordinary faith," she says. "I'll see where this takes me."
No doubt, that will be at the high end of the bar, where success — and the Olympics — await.
Beti Spangel, of upstate New York, specializes in writing about horses.