When Kelly Smith-Anderson gazes out at her herd of 30-plus Leicester Longwool sheep, she sees more than animals that produce extraordinary wool fiber and quality meat, profits for her small West Virginia farm, or a means for here and her husband Ricky to live the farming life.
Her sheep — some of the rarest in the world — provide her with the opportunity to help keep a dying breed alive. Indeed, the Leicester (pronounced lester) Longwool was once so important that many current sheep breeds originated from it because of its high qualities. So Kelly has taken her fascination for the Leicester Longwool's history and love for the breed and turned it into somewhat of a mission to increase their numbers while remaining true to the original breed. "The challenge is to keep the breed alive in today's society," she says, "and to understand the importance it played for the livestock breeds today."
BECOMING A SHEPHERD
Sheep have always been part of Kelly's life. When she was just 9, her aunt, Jean Bishoff, gave her her very first ewe — a registered Dorset named Barbara that she showed in the county fair.
She credits that aunt, whom she lovingly calls "Momzie," with fostering and nurturing her passion for sheep. Momzie had long raised horned Dorsets, which are acclaimed for their meat quality.
Kelly was active in her county's 4-H sheep program and earned her share of ribbons, including grand champion. And after graduation, sheep remained part of her life.
Kelly, who had raised sheep for meat, eventually took an interest in sheep fiber and creating yarn from it. She and Momzie took a class in nearby Morgantown to learn how to spin yarn from wool.
"When I realized that there were wool breeds of sheep, well, that was it," she says, with a laugh. "I got introduced to different kinds of sheep like Romney and Lincoln."
Her spinning instructor provided the students with several kinds of wool to sample, including some from overseas. A particular wool from the Teeswater sheep, a British breed, captured Kelly's attention. "I fell in love with the long, curly wool," she says.
With her interest in fiber piqued, Kelly and Momzie headed for the first time to the Maryland Sheep and Wool Festival, a longtime event that includes workshops, demonstrations, sales, shows, sheep, and everything fiber.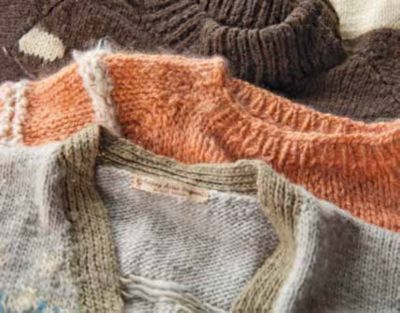 Teeswaters were not available — they were not in the United States at the time — but that mattered very little to Kelly, who decided that Romney sheep fiber was her favorite to spin.
She went home from the fiber festival with two registered Romney ewes while Momzie brought home a Cotswold and Border Leicester. "From there, I raised registered Romneys for years," Kelly says. She also became a vendor at the Maryland fiber show, selling yarn spun from her sheep, fiber, and wearables that she makes, such as sweaters, hats, and mittens.
It was at the fiber show in 1990, when Colonial Williamsburg, the world's largest living history museum in Williamsburg, Va., brought in a couple of Leicester Longwools to publicize their rare breeds program, which works to keep alive heirloom breeds that are in danger of extinction because of crossbreeding.
"I was in the booth, finishing setting up, when my friend, Joan, said to me, 'You've got to see these sheep,'" Kelly recalls. "And there were the Leicester Longwools." "They were very similar to the Teeswater and we got so excited," she says. "I wanted to buy one of them, but Elaine Shirley from Colonial Williamsburg said they were not for sale."
Shirley, who manages rare breeds at Williamsburg, told Kelly that some wethers, or castrated male sheep, might be available eventually, so Kelly and Joan placed their names on the list to buy some. Over the next couple of years, Kelly kept in contact with Shirley to remind her that she wanted the Longwools.
Her gentle persistence paid off in late 1992 when she got the phone call that Colonial Williamsburg would give her four of the rare sheep.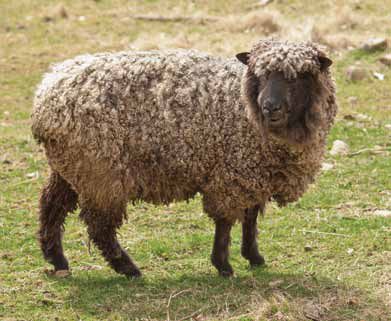 UP TO STANDARDS
Colonial Williamsburg's rare breeds program had decided to move some of its genetics work to satellite locations. Three farms were selected to participate, and Kelly's was one of them. The other two flocks went to Virginia farms.
She received three ewes and a ram with bloodlines from the Melton Vale Stud farm in Tasmania owned by Ivan Heazlewood. They were descended from the first sheep that Colonial Williamsburg had imported to start the rare breeds program. Kelly was, of course, thrilled to receive the sheep that she had desired for so long, but she also was very aware of the daunting task that she faced.
"I was scared to death because, first, they were not my sheep, and second, because they were so extremely rare," she recalls. "I did a lot of praying."
She would lose a ewe to an internal parasite and another to the first known coyote attack in West Virginia. Each loss devastated her, but Colonial Williamsburg's rare breeds folks were supportive.
"They were realists and they understand that things happen," Kelly says. "They're awesome."
"Raising a rare breed is a challenge because they are so susceptible to many things," Kelly says. "Rare breeds are rare for a reason."
Indeed, although Williamsburg satellite herds from subsequent years are still around, Kelly's is the only Leicester Longwool herd left from the original satellite assignment.
She's carefully bred and raised the sheep to maintain the strongest of the breed's unique characteristics. Kelly culls out animals that have less-than-desirable traits, such as an overbite or underbite, unsatisfactory legs, or weak pasterns, which means that a ewe won't be able to carry pregnancy weight.
Culled lambs are sold for meat because Leicester meat is known for its quality and flavor. "About 30 percent of our lamb crop every year will be culled," Kelly says.
The lambs with the strongest breed characteristics are registered and used as breeding stock. If they're not up to standards, they don't get registered. She's particularly strict on her rams' breed characteristics.
"They have to be perfect, because a ram is 90 percent of our flock," Kelly says. "The body has to be right, the fleece has to have the right characteristics, and the color has to be perfect, with a very black nose and gray inside the ears," she says.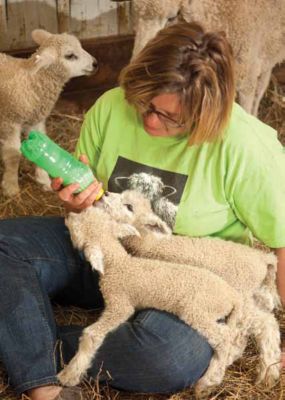 "The ewes get a little more leeway," she says. "She can have some minor faults, but if you breed her to the correct ram, you can correct those faults (in the offspring)."
Building a strong, healthy herd is similar to building a house, Kelly explains.
"If you don't have a solid foundation, then you won't have a house that lasts," she says. "But if you stick with the breed standards, then you'll have a solid, and then even a stronger, foundation."
MAKING HISTORY
After the Leicester Longwools arrived at Kelly's Hopping Acres, near Bruceton Mills, W.Va., she eventually sold off her beloved Romney sheep.
"Over the next few years my Leicester Longwool numbers were increasing and I had to make the decision to let my flock of registered Romneys go. The Leicester Longwools just won over that place in my heart," she says. "I'm so dedicated to this breed that I want to give everything I have to it," she says.
Indeed, Colonial Williamsburg is Ground Zero of reintroducing Leicester Longwools into the United States, but Kelly is responsible for growing the breed's population. "About 60 percent of Leicesters in the U.S. goes back to my breeding," she says.
That's both good, and not so good, she notes. But she and other breeders have managed to open up the bloodlines through artificial insemination from other Leicester stock from other countries to keep from inter-breeding.
It was through an artificial insemination program that her ewes, which are traditionally white, were bred with colored Leicesters from New Zealand, which eventually resulted in the first black Leicester ewe born in the United States.
"History was made in West Virginia in 2002," Kelly says, with a broad smile.
"You know, we went through the coyotes and the (parasites), and the average shepherd would have given up," she says. "This is what made all worth it to me: how the colored Leicester got going here."
Her inspiration is Robert Bakewell, an 18th-century British agriculturalist who is noted as the originator of selective breeding of livestock. It was he who developed the Leicester Longwool, not only for its wool production but also for fat mutton production needed in the early 1800.
The high qualities of the Leicester were so important that many breeds of sheep started from Leicester Longwools, Kelly says.
"I understood why Robert Bakewell worked so hard to create the Leicester Longwool, and I wanted to continue all his hard work from all those years ago," Kelly says. "Everyone wanted the new and improved (sheep) but I was very satisfied to go back, work hard like Mr. Bakewell, and bring the Leicester Longwools back to the U.S.A." As much as she loves the Leicester fiber, the sheep's meat quality is superb because it maintains a mild flavor even as they age, she says.
"If I have a ram that turns mean and dangerous, I butcher him," she says.
When she made a lamb stew from a belligerent ram for fellow members of the Leicester Longwool Sheep Breeders Association, one member named it "Grumpy Ram Stew."
"The membership was amazed that it was not made from a lamb; it was a 5-year-old ram that hit me one too many times," she says. "So, once again, Mr. Bakewell knew what he was doing and I wanted to show them that his work was spot on."
The high qualities of the Leicester were so important that many breeds of sheep started from Leicester Longwools, Kelly says.
FINDING APPROVAL
"I'd love to have met Mr. Bakewell. I'd love for him to know what I've done with his breed of sheep," Kelly says. Still, she experienced something that was nearly as thrilling as meeting the originator of her favorite breed. It happened during a card grading, which essentially is an event to evaluate individual animals as to whether they measure up to the breed standard and to assess their potential as breeding stock.
Each animal presented receives a grade, which is represented by a card. A blue card is the highest grade, and indicates an excellent breeding animal. One of the evaluators was Ivan Heazlewood, from whose Tasmanian farm her original Leicester flock had originated.
"This was like God giving you a flock of sheep and had not seen what you had done for years," she says. "When one of my rams received a blue card from him, I knew, with a tear coming down my cheek, that I had done something right." A few years later, Ivan Heazlewood's son visited both her farm and the farm of her best friend, Joan Henry, who also raises Leicesters.
"He got to walk through our flocks and he walked and looked and walked and looked at all our ewes," she recalls. "He turned to us and said, 'Father would be proud.'"
IN GRATITUDE
Despite the hard work, the coyotes, the parasites, and all the other struggles that come from raising livestock, particularly a rare breed, Kelly would again rise to the occasion.
"If I had to do it all over again, I would — 100 percent," she says.
So why would a farmer choose to save rare breeds? "The best answer for me would be the challenge," she says. "The challenge to keep breeds alive in today's society. To understand the importance they played for the livestock breeds today."
"And most of all, to let them know that we thank them. We thank them for who they are," she says, "and to make sure they are here for the future."
Carol Davis, who was enchanted with Hopping Acres Farm, is editor of Out Here.