When Bill Middlebrook retired from farming 11 years ago, his longtime hobby of custom knife making became a full-time passion.
Middlebrook, 71, of Haskell, Texas, carves a delicate balance with his handmade knives. They are works of art, to be sure. The handles are fashioned from elegant specialty woods or exotic bones. The brilliant blades are fashioned with intricate patterns, sometimes feathers, sometimes flowing circles or other designs, imprinted through the metal.
But these works of art are tools, too, and Middlebrook wants to make sure they're as useful as they are beautiful.
"I like to see them used," says Middlebrook. Sure, a few are destined for collectors' display cabinets, but most are headed to hunters' hips to be pressed into service when they're needed.
"I like an attractive knife," he says, "but I want a usable knife with good quality steel in it. I put the quality into the blade."
He puts the quality into the handle, too. Middlebrook is famous for crafting elegant knives whose handles are fashioned with materials from around the world. Sometimes it's Texas mesquite from close to home. The burl wood is laden with elegant whorls and swirling shapes that make for a beautiful handle.
Middlebrook is known to use ivory from the tusks of prehistoric mastodons unearthed in the wilds of Siberia, or fossilized walrus bone. Sometimes the handles are carved from giraffe bone or camel bone — materials far harder than the factory knife handles often made from cattle bones.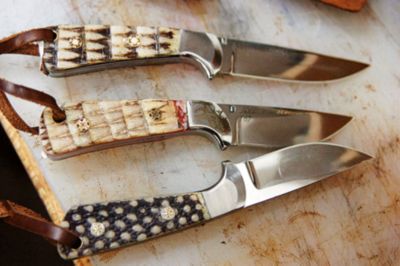 His blades can be as interesting as the handles. They sometimes include antique iron horseshoes melted down and mixed in to give the steel its hardness. Nickel gives the blades their shine. The steel occasionally comes from thick cables — the kind that hold together swinging bridges. Pressed through the blades are his intricate designs.
"I get in the shop and I lose track of time," he says.
Knife making isn't Middlebrook's only art. He's also an accomplished silversmith, fashioning beautiful earrings and necklaces and belt buckles. Sometimes he takes old silver-plated forks and spoons and turns them into elegant crosses.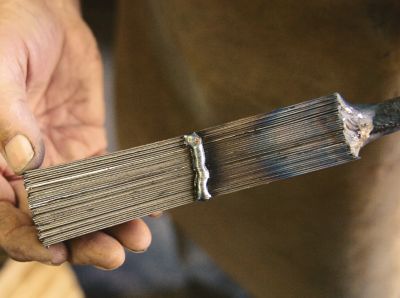 But it's his knives — both usable and beautiful — for which Middlebrook is best known. He discovered he had a talent for knife making back in high school, and he's been at it ever since.
"I guess I figured out that that's what I liked to do," he says. "All the other boys that year made wood projects and I made a knife."
Middlebrook has retired from farming — he raised Charolais and Angus cattle for years — but he hasn't retired from knife making. He sells some 200 knives a year, traveling to cowboy shows and rodeos throughout Texas and beyond where buyers seek him out. One of his biggest fans was Texas A&M football legend John Kimbrough, a neighbor who died last year.
BEAUTIFUL AND STRONG
Middlebrook specializes in forging blades of Damascus steel, a process as ancient as the name suggests. The result is a beautiful blade riddled with intricate patterns.
Middlebrook takes three, four, sometimes five different metals and forges them into a solid sheet. The metals are laid together, cut in two and laid together again, repeating the process until he's achieved the number of layers he wants. A stack of 20 becomes a stack of 40, becomes a stack of 80, sometimes up to 400 layers before he's done.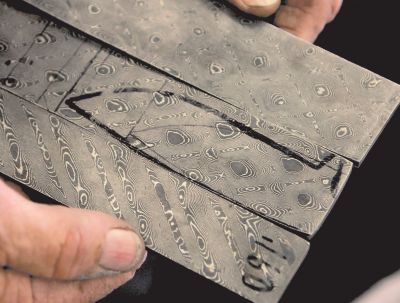 Damascus steel is renowned for its strength as well as its beauty, and it's rare for a knife maker to forge his own. But then, Middlebrook, who taught himself the age-old process, is a rare breed. He doesn't make just knives. He has made much of his own equipment, too, and he built the workshop where he does his work.
He works on his great-grandfather's anvil, brought over from Holland in 1872 when he settled in Texas. The anvil has been passed down through generations of farmers to follow.
"He'd probably be pleased," Middlebrook says, "because he was a blacksmith. He had to do everything on his own. If he wanted a piece of equipment, he had to make it."
Middlebrook's craft manages to forge together those layers of history. Using an ancient technique and his great-grandfather's anvil, he pounds together layer upon layer of tradition to create something brand new.
Fixed with an elegant handle crafted sometimes from exotic materials, sometimes from wood gathered close to home, he designs a work of art beautiful enough to be kept on display, and a tool meant to be pulled out and put to work.
David Frey writes in Carbondale, CO.