Stained glass has long been associated with towering cathedrals and country churches, but today, it shows up in a variety of places — businesses, libraries, and family homes.
The unique patterns and vibrant colors of stained glass can add beauty, interest, and character to virtually any décor, whether it's a door panel, a window, or small suncatcher.
Parkie Gleason of Niangua, MO, who has created and taught stained glass art for decades, says anyone can learn the craft.
Gleason once made a 30,000-piece design for a restaurant in New York City's Empire State Building. Yet every project — no matter how simple or complex — starts with the same basic steps, he says.
A suncatcher is a good introduction to stained glass. It relies on the same materials and procedures used in making a stained glass window — without the intricacies of piecing together dozens of parts.
A handmade suncatcher, refracting the sun's rays in your window, is a striking conversation piece. Once you learn the basics, experiment with different colors and patterns to create something that is uniquely yours.
Some stained glass supplies must be purchased from a specialty retailer. This project calls for the very basics, but additional supplies can be added later if you decide to pursue stained glass as a hobby.
Check local listings or search online for stained glass dealers.
FOR SAFETY'S SAKE
Before you start, take note of a few safety points:
Because this project uses lead, take special care to avoid accidental ingestion. Always wash your hands thoroughly after handling lead. Keep the lead materials and the finished product out of the reach of children.
Wear safety goggles when cutting and soldering.
Avoid dangerous fumes by soldering in a well-ventilated area.
Avoid damaging your tabletop by placing a piece of plywood over the working surface.
Wear gloves when you're handling glass edges.
RED CHERRIES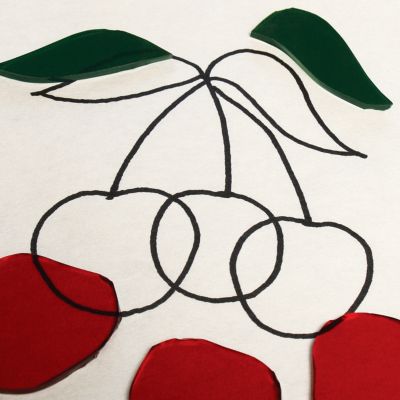 Supplies:
Safety goggles
White paper
Permanent marker
Colored glass in red and green
Stained glass cutter
Nippers or wire cutters
Glass pliers 1/8 inch wide lead came (the divider bar used between small pieces of glass)
60/40 solder
80-150 watt soldering iron
Flux (a chemical composition that promotes bonding of the solder)
Small paintbrush
12-gauge copper electrical wire
Fishing line or suction cup hanger
STEP BY STEP
Draw on paper the cherry suncatcher pattern shown. The key in doing a first project is to keep it simple, with as few pieces to assemble as possible.
Place the corresponding color of glass over the pattern (red for cherries, green for leaves) and use the permanent marker to trace each piece of the cherry pattern.
Holding the glass firmly in place with one hand, carefully score around each piece using the glass cutter. Keep the cutter perpendicular to the glass while applying consistent light-to-medium pressure. Resist the temptation to press too hard. Scoring does not slice the glass all the way through, but creates a weak point so that it easily breaks along a designated line. A good score will appear as a scratch on the surface of the glass.

Using glass pliers, carefully break away the glass along the scored marks. Some crafters hold the glass in one hand while working the pliers with the other. Others line up score marks along a table edge and use pliers and gentle downward pressure to break away excess glass. This method is most useful for straight edges. You may need to practice scoring and breaking a few times before you get the hang of it. Whichever method you choose, use caution to avoid injury.

With nippers, cut the lead came to match the circumference of each piece of glass. Locate the channels in the came and line these up with the edge of the glass. Channels hold the glass snugly in place so that it cannot slide out. Wrap the lead around the outside edges of each piece, bringing it together at the top. Be careful not to slide your fingers along the sharp glass edges.

Now it is time to solder, which essentially is fusing two metals. Use the small paintbrush to brush flux, which helps soldered material to bond, on the lead seams and solder them in place using the soldering iron. Do this for every piece of glass, so each one is completely framed in lead.
Remove the insulation from the copper wiring to create your cherry stems. Use your pattern to determine the correct length to cut.
Arrange the glass and copper pieces as you want them to fit together. It helps to place them on top of the original pattern.

Just as in Step 6, brush on flux where you plan to connect parts. Solder together the individual pieces to form your design.

Tie a piece of fishing line to your suncatcher or hang it from a suction cup hook to display in a window.

Viola! Your first suncatcher is a conversation piece. Now, experiment with different colors and patterns to create something that is uniquely yours.
Christina Quick is a Missouri writer.