Choose the Right Fence for Your Goat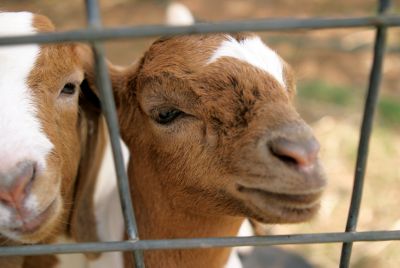 By Noble Sprayberry
Photography by Amy Peterson
Curious, persistent, and resourceful. It's a mix of personality traits all too familiar to anyone raising one of the animal world's leading escape artists: goats.
After years of raising Boer goats just outside Fort Worth, Texas, Carol Rochester understands the animals' persistence all too well.
"A bad fence will make a bad goat," she says. "Once they find a hole, they'll keep going back there. After one or two get out, the whole herd will go. And there's isn't too much they can't figure out, whether it's a bolt or a gate latch."
Wandering goats, not to mention neighbors irritated by unexpected visits, represent only one problem. Improperly installed fencing can also put goats at risk.
"I can't tell you how many times I've driven down some lonely country road and seen a silly goat with its head stuck in a fence, and that's just predator bait," Rochester says.
She speaks from experience. Rochester, who earned a degree in animal husbandry in England, moved to the United States in 1982. She's raised Boer goats since their introduction into the United States in the mid-1990s.
Rochester's animals are frequent winners at the competitive Fort Worth Stock Show Rodeo, winning at least one of three goat divisions each year since 1996. She devotes 15 acres to goats, averaging about 40 animals per acre.
Securing any goat operation begins with a good perimeter fence, she says. Often people try to adapt an old cow fence and learn too late the gaps between fence wires, or squares, are the wrong size.
A curious goat can often push its head through the fence but its horns can keep them from pulling free, Rochester says.
A fence with 4-inch squares represents the best option, Rochester says. Fencing with 12-inch squares usually allows a goat to push through and usually pull back safely.
"A 6-inch square is a goat-killer," she says. "They can sometimes strangle in there but the biggest thing is predators. They're coyote bait."
Rochester begins most perimeter fences with 4-foot-high fencingthat meets the ground and is secured to 7-foot posts. A plain wire pulled as tight as possible runs between the posts at eye- level, which not only secures the top rung of fence, but it discourages goats from climbing the fence. To further discourage climbing, some goat owners recommend stringing a strand of electric fencing at the top of the wire fence.
Once completed, the fence should offer good security, particularly because goats usually won't jump a fence. They will, though, test the fence, scratching against it to relieve the itching caused by lice common in all goats, Rochester says. And because bucks - male goats - can weight as much as 400 pounds, they can do heavy damage to a fence.
Rochester also keeps special pens for kids, corralling young goats with portable, tubular fence panels. The panels also work well for quickly establishing chutes when loading or unloading goats or separating a sickly goat.
There's also a frequent need to temporarily divide a pasture. Rochester prefers fence panels made of welded wire, with squares that become smaller toward the bottom, graduating to a size small enough to prevent the escape of young kids.
Fence choices
When it comes to fencing and fence panels, there's a range of options across several price points, says Donnie O'Malley, a sales manager for Oklahoma Steel Wire in Madill, Okla.
The company's offerings for goats begin with 12.5-gauge fencing that comes in 330-foot rolls and has 12-inch wire rectangles, big enough for a goat to extract itself after poking its head through, O'Malley says. The fence height ranges from 32 inches to 47 inches.
When working to protect goats from predators, O'Malley suggests a fence with 4-inch spacing between squares, too small for most predators. The smaller squares nearly double the amount of wire used and increases the price accordingly.
Utility panels also offer an option for many uses. The company's biggest sellers are panels ranging in height from 3 feet to 8 feet with 4-inch rectangles. The most common is a 20-foot-long panel.
A 42-inch high, 16-foot-long panel that graduates from 3-inch by 8-inch rectangles at the bottom to 6-inch by 8- inch squares at the top, represents a less-expensive option. A 16-foot-long section of this panel costs about $15.
While anyone raising goats needs a variety of fencing, there's one essential priority, Rochester advises: "Put the money into the perimeter fence."
"Do that and they're not going to go onto a neighbor's property," she says, "or down the street."