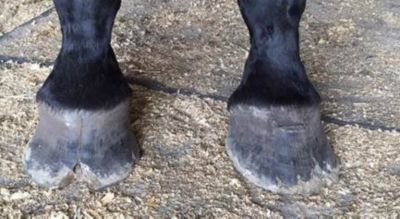 Rehabbing Talia
When Lauren De La Fuente brought her horse Talia home for the first time, she suffered from brittle, chipped hooves. Lauren knew they needed some TLC so Talia could be the healthy and happy horse she was meant to be. We talked with Lauren about Talia's journey and how DuMOR Ultra Shine and other products are helping this horse heal.
TSC: Thanks for joining us, Lauren. Can you tell us more about Talia?
Lauren: I've owned Talia for two years. I purchased her in 2015 when she was only halter broke and had been sitting in a pasture for three years. She wasn't being abused, but she was slightly neglected and definitely not cared for to my standards.
TSC: How did Talia come to live with you? How did you learn about her?
Lauren: In 2012 I found an online ad for several 3-year-old, un-started, Percheron/Thoroughbred crosses. I quickly fell in love with them! I wanted to purchase one so badly, but things did not work out.
Fast forward to 2014, I met one of my now close friends on Craigslist (I know, it's crazy!). She had an ad up looking for help putting miles on her two young horses. I went to meet them, and I was immediately drawn to them. They were 5 years old at the time, with about 6 months of under saddle training. They were some of the quietest horses I had ever ridden.
I asked my friend where she got them and she said she bought them from a man in the next town over. She also told me she had helped him market his other horses, and that he had one more left for sale (Talia). As my friend told me more about the horses she helped sell, I started putting two and two together...Talia was one of the horses I had seen for sale 2 years ago! She and I were clearly meant to be! I visited her twice and knew I had to purchase her. So, January 17, 2015 I did. A lot of people thought I was crazy for purchasing a 16.2hh halter broke 6-year-old, but I knew she was something special.