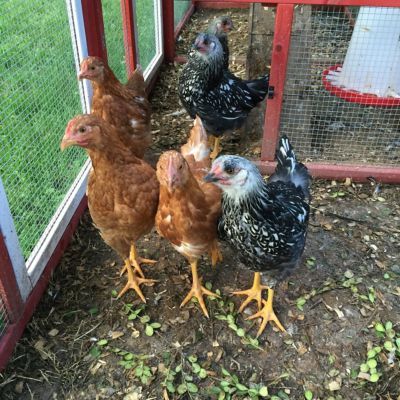 The chickens two months old.
Lessons From A First-Time Poultry Parent
Sometimes, life out here can require a bit of a learning curve.
Just ask Brad McClain.
Because despite his eight-plus years working with Tractor Supply, when he decided to try his hand at raising chickens for himself, he was in for a few surprises. And his experience makes for a great lesson in "learning as you go."
In Brad's case, it all started with a permit from the Department of Public Health. Which came with some very particular restrictions.
"Doing my initial research, I found that there are city ordinances that have to be followed. For instance, the number of chickens you're allowed depends on the size of your property. They also have to be kept a certain distance from property lines, roads, and so on."
In his case, the city also specified that no roosters were allowed. ("But without a rooster, how do the eggs get fertilized," you ask? Well, read on... because not only is that one of the more common questions Brad gets, it also makes for an interesting bit of "fowl biology.")
His next step, after picking up the items he would need to properly brood his new flock, was to buy a half dozen chicks – three New Hampshire Reds and three Silver Laced Cochins – from the Fairview, Tennessee Tractor Supply.
"For the first two weeks, I kept them under a heat lamp. Actually had to use a bucket to protect them from our cat! It was during this stretch that I realized just how much attention they need at this stage. I'd read up on what to expect, but it's a bit different once they actually arrive. After all, they're babies. So they need the extra care. For instance, you have to be super diligent about changing their food and water to keep it clean. Because without fail, they're going to step in it, poop in it, or just knock it over. That part definitely gets easier later, when you can hang a waterer or feeder."
Another unexpected learning? "I didn't realize how quickly they grow up and stop being these adorable little fuzzy chicks!" Brad says.
At the two week mark, Brad moved the birds into a Red Barn Coop with an extension. "At this point, I was still using a heat lamp to keep them warm. But as they grow, they'll more or less show you how to proceed. When they don't need the extra heat anymore, you'll know."
Throughout the first few months, Brad transitioned through "chick starter" feed and then to laying rations. "And I'll admit, I did start giving them treats once they were a few months old. Things like mealworms and live crickets. It's just fun. When it comes to the New Hampshire Reds, they'll eat right out of your hand."
But that's not to say the process was all fun and games.
"Just because they're fenced in, doesn't mean they can't get out," Brad cautions. "Granted, their wings will only lift them a bit...but if they've found a perch that's close to the fence, that's enough. I had one get over the fence, and she's never returned!"
That's actually when Brad started clipping their feathers – an effective and painless way to keep them from making a break for it. "And it's easy. I found out how to do it on YouTube."
Brad's chickens were four months old when they began laying eggs. And now, he's just enjoying the ride. "I make sure they have clean food and water, but otherwise there's not much to do at this point except keep collecting the freshest eggs around. We actually just let them roam around the backyard most of the time. And we'll even throw them the occasional treat from the deck. I'll admit we've probably spoiled them a bit. They come running when we open the back door, because they think they're getting something to eat!"
Oh, and as for that rooster question...
"It might seem silly, but it's the question I get asked more than any other," Brad says. "Yes...hens will still lay unfertilized eggs without a rooster. But if it's baby chicks you're after, then a rooster is definitely a necessity!"