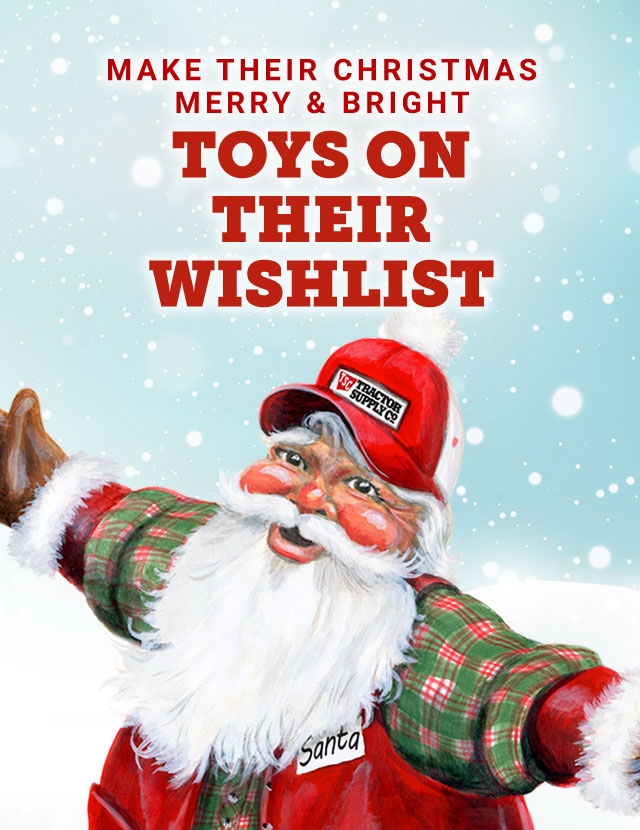 This Christmas, watch your child's face light up as they unwrap something new and exciting. From stocking stuffers to gifts for under the tree, Tractor Supply carries the games and toys that are sure to make their spirit bright!
Shop by age and category to find the perfect toy.
Toys For Everyone
Shop Deals By Age
Vroom... Vroom!
Power & Pedal Toys
The Great Outdoors
BACKYARD FUN
Show More
Show Less
Toys at Tractor Supply Co.
Tractor Supply offers an impressive selection of toys and collectibles for kids young and old — and even for those grown-ups who have maintained their child-like spirits! From dolls and plush toys, to cards and puzzles, to rideables and yard games, you're sure to find something for the kid in your life, and for any occasion, like birthdays, holidays, and 'just-because' moments.
Plush Toys, Dolls, and Playsets
Your kid's new favorite toy is here at Tractor Supply. Gift them an adorable plush animal to cuddle with day and night, or a new doll they can dress up and give life to within one of our dollhouses. We also provide a large selection of playsets which includes horse sets, train sets, and farm animal sets, as well as collectibles and figurines to admire from afar. If your child is more interested in make-believe scenarios including themselves, Tractor Supply carries tents, play furniture, and playhouses for indoors and out.
Ride-On Toys
Let your child's imagination take off with our exciting assortment of ride-ons! If your kid is interested in all things farming, we offer ride-on tractors, diggers, ATVs and more. We also have rideable playthings like wagons, bikes, trikes, and pedal carts that encourage your child to get outside and ride on!
Outdoor Play
Take playtime outside with Tractor Supply's assortment of yard games. We offer ride-ons like bikes, scooters, and peddle carts, as well as lawn games like cornhole, croquet, and volleyball. When weather hits, don't skip outdoor play; take advantage of the fresh layer of snow with a day spent speeding down hills on one of our sleds Tractor Supply has what you need to put on a smile on your child's face at every age — from when they're a baby to a toddler, to when they've grown into a teen. We offer toys from brands like John Deere, Breyer, TOMY, and Schleich to name a few, and popular toys like Cabbage Patch dolls. And don't forget about our selection of playthings for your pet, which includes an impressive assortment of dog toys and accessories!
Page Not Found
The page you are looking for is no longer available or has moved - please search for your item again using the search bar or navigation. For further assistance, please contact Customer Solutions at 1-877-718-6750 or customersolutions@tractorsupply.com.