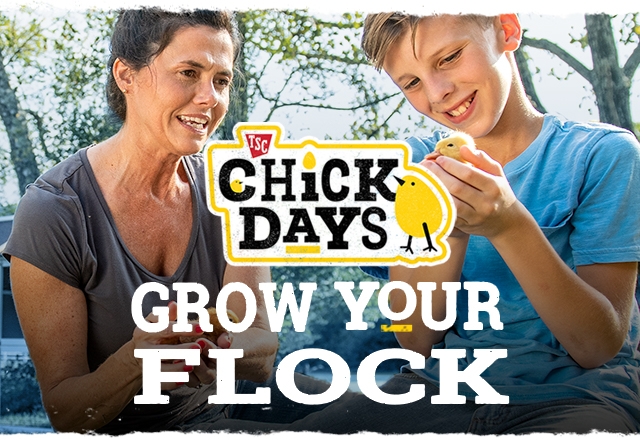 WHETHER YOU'RE A SEASONED BACKYARD CHICKEN KEEPER OR JUST GETTING STARTED,
Tractor Supply carries everything you need.
DON'T JUST WING IT!
From essential supplies to helpful advice, find everything you need to grow your flock today.
YOUR CHICKEN KNOW-HOW CENTER
WAIT, THERE'S MORE!
Get the s'coop below...
LEARN THE BASICS OF RAISING CHICKENS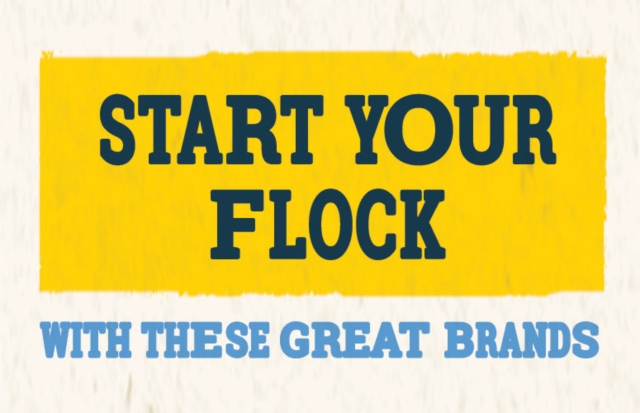 When it comes to chicken care, bio-security and education, you can trust in Tractor Supply! We Work closely year-round with reputable hatcheries, the U.S. Department of Agriculture, Center for Disease Control and the Livestock Conservancy to ensure we always execute best practices.
Show More
Show Less
Chick Days at Tractor Supply Co.
Tractor Supply carries everything a backyard chicken keeper needs to start, grow and maintain their flock. Year-round, you can shop chicken coops, chicken coop runs, poultry feed, treats, poultry feeders, poultry waterers, supplements and more, while seasonally you can search a variety of live chick breeds to bring home. We even have a handy directory that'll help you discover the ideal poultry breed to raise. And you can always depend on Tractor Supply to execute best practices in bio-security, chicken care and poultry education. We work closely year-round with reputable poultry hatcheries, the U.S. Department of Agriculture, the Centers for Disease Control and the Livestock Conservancy. Keep reading to learn more about Chick Days at Tractor Supply and the wide assortment of poultry supplies available!
Chicken Coops, Chicken Pens, Wire and Netting
Whether you're searching for a small chicken coop to get you started or a large chicken coop to adjust to your growing flock, you can find the right chicken coop for sale at Tractor Supply. We carry both pre-built coops and chicken coop kits, plus plenty of chicken pen options for your backyard birds to move freely while still staying safely contained. If you have free-range chickens, poultry netting offers great protection and confinement as they wander around the yard.
Poultry Feed, Feeders, and Waterers
Tractor Supply has poultry feed, treats and supplements for every stage of your birds' lives, ensuring they grow from healthy chicks into healthy adult birds. Shop feed pellets, cracked corn, crumbles, blocks, grit, oyster shells and more from brands like Purina, DuMOR, Nutrena, Nature's Best, Flock Party and Producer's Pride. We also carry feed and seed containers to keep your poultry feed fresh, grinders to grind your feed as finely or as coarsely as your birds like, and poultry waterers and feeders for easy drinking and eating
Incubators and Brooders
If you're introducing a fresh batch of chicks to your flock, Tractor Supply has the essentials necessary to do so. Choose from our selection of egg incubators and an assortment of incubator accessories to prepare for a successful hatch. Once the chicks are here, ensure you have the proper gear to keep them warm and safely corralled with a brooder, a heat lamp and a chick corral.
Learn More
In addition to the poultry supplies, Tractor Supply features helpful articles on properly raising chickens. Learn to prepare your brooder for newly hatched or purchased chicks, or find helpful advice on how to build a chicken coop, how to properly provide heat in your chicken coop, and how to prep your coop and your chickens for winter. If you're looking for answers on what to expect during the first few months of raising chicks, we have articles on that, too! Plus, advice how to add mature chickens to your flock, and insight into different breeds of poultry. Chick Days at Tractor Supply is the perfect time to stock up on the essential gear to care for and maintain your flock.
Page Not Found
The page you are looking for is no longer available or has moved - please search for your item again using the search bar or navigation. For further assistance, please contact Customer Solutions at 1-877-718-6750 or customersolutions@tractorsupply.com.