NEVER RUN OUT AGAIN
SUBSCRIPTION AVAILABLE ON SELECT PET & ANIMAL SUPPLIES
PLUS,
SAVE 5% ON MOST AUTOSHIP ORDERS

AND GET

FREE DELIVERY ON ORDERS OVER $49

Buy $49 or more of over 800 eligible pet & animal products and we'll apply free standard delivery to your order.
Some exclusions apply.
YOUR SUPPLIES DELIVERED ON YOUR SCHEDULE
At Tractor Supply we are dedicated to making your life easier for you & your furry family members. Subscribe to our Autoship program to receive regular deliveries of food, treats, flea & tick preventatives, training pads, supplements and more, all while saving you time and money.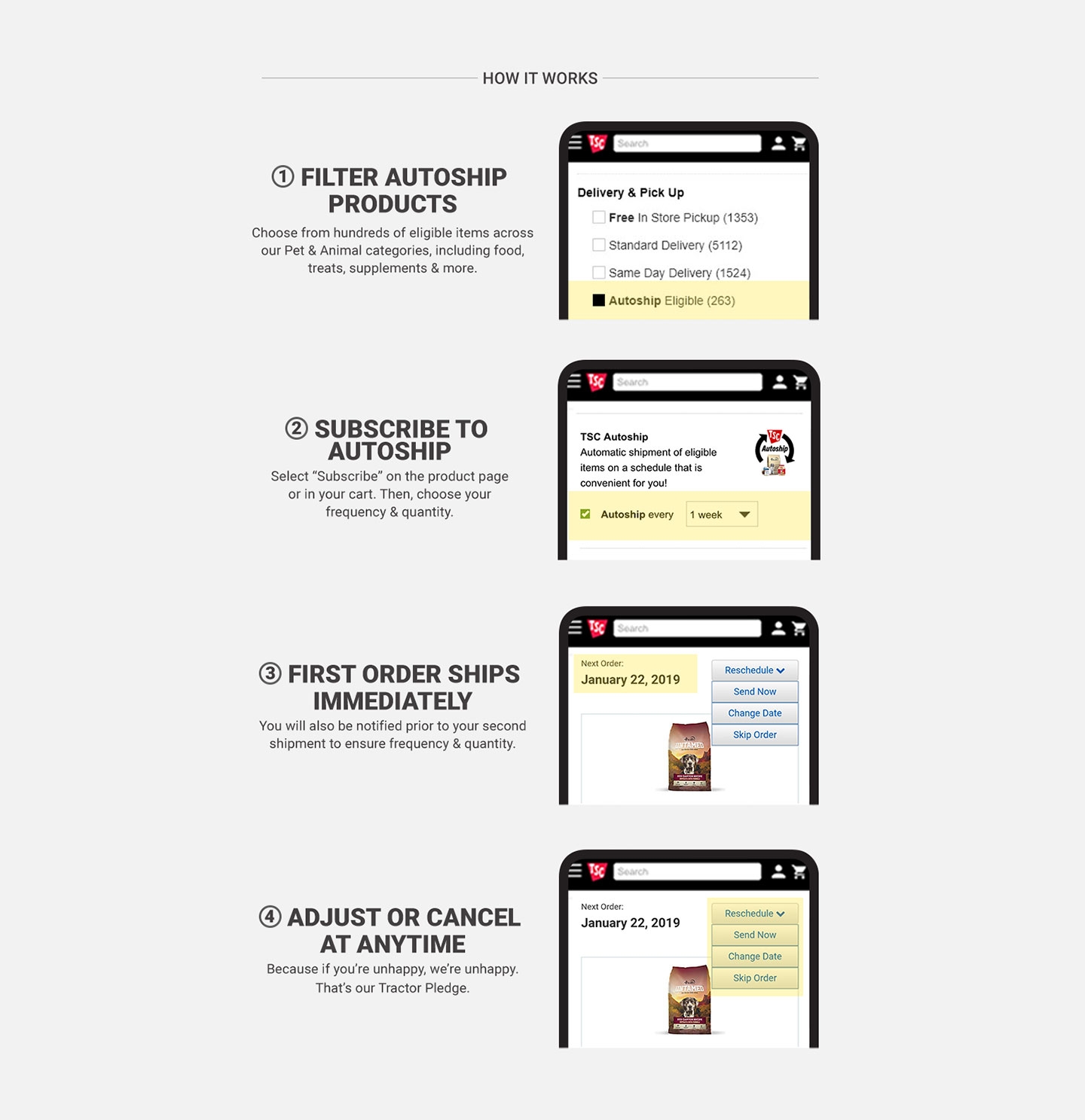 ☆☆☆☆☆
"Tractor Supply makes my life easier and convenient by offering delivery to my home and free shipping with my purchase. The auto shipping offer is great, now I do not have to worry about running out of cat food."
-kryn
Autoship Frequently Asked Questions
Choose Autoship during checkout and your items will shipped automatically based on your selected frequency.
Items are labeled Autoship within the product list and search page and by filtering using the Autoship filter in the left column.
Earthborn Holistic, SPORTMiX and Wholesomes
The most popular frequency is presented by default but you have the opportunity to choose other options based on your needs.
Yes! Autoship orders will count the same as regular orders toward Neighbor's Club Rewards.
You will get the lowest price available at the time the order is shipped.
Yes, you can change your frequency on your account page.
You will have to create a new order and cancel the original subscription in the my account page.
You can update your delivery details through the my subscriptions page.
There are a number of reasons your subscription may be inactive. Please contact customer solutions.
You will have to cancel your Autoship order in the my account page.
Free standard delivery will be applied to eligible Autoship items when the order total is $49.00 or more.
Yes. The 5% autoship discount will automatically apply to all autoship orders generated February 5th, 2020 and later. This includes new and existing subscription orders.
Page Not Found
The page you are looking for is no longer available or has moved - please search for your item again using the search bar or navigation. For further assistance, please contact Customer Solutions at 1-877-718-6750 or customersolutions@tractorsupply.com.