Tailgate Recipes
Thanks to Just A Pinch Recipes for sharing recipes.
Anytime Tailgate Sandwiches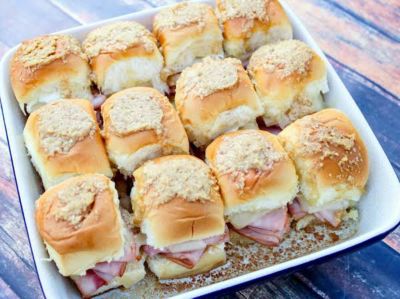 Ingredients
2 King's Hawaiian sweet rolls, split across (no substitutes!)
1 lb honey ham or turkey, shaved
12 oz Swiss or provolone cheese, sliced
8 oz tub Philadelphia chive and onion or garden vegetable cream cheese, softened
1 stick butter, melted
1/4 c grated Parmesan cheese
1 Tbsp Worcestershire sauce (can use less to taste)
1 1/2 tsp dried minced onion (can use less to taste)
Directions
1. Lightly spray 11x7 baking dish with non-stick cooking spray. Split rolls across with serrated knife and arrange in dish.
2. Layer ham (or turkey) and Swiss (or provolone) on top of roll bottoms.
3. Spread roll tops with a layer of cream cheese. Carefully place tops to match up with rolls below.
4. Meanwhile, in a small bowl, combine melted butter, Parmesan, Worcestershire, and minced onion. Pour evenly over sandwiches. Let stand for about 20 minutes.
5. Cover and bake at 350 degrees for 20 minutes or until heated through.
6. Serve right from the pan or separate and present on a platter. Have fun experimenting and customizing the recipe. You can't imagine how yummy these are... and popular, too!
Buffalo Chicken Egg Rolls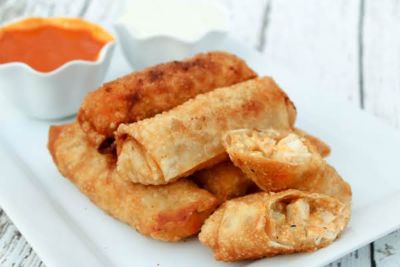 Ingredients
4 oz cream cheese, softened
6 Tbsp Buffalo wing sauce (not hot sauce)
2 c chopped cooked chicken
4 oz Bleu cheese, crumbled
1/2 c minced celery
1/2 tsp kosher salt
1/4 tsp freshly ground black pepper
12 egg roll wrappers, 6 1/2" x 6 1/2" each
1 - 2 Tbsp tablespoons water
Vegetable oil or peanut oil, for frying
Bleu cheese dressing and additional Buffalo wing sauce for serving
Directions
1. In a medium bowl, mix the cream cheese and wing sauce. Add in the chicken, Bleu cheese, celery, salt, and pepper; mix to fully combine.
2. Working with 1 egg roll wrapper at a time, place the wrapper with one corner of the diamond closest to you. Place 2 - 2 1/2 tablespoons of the chicken mixture in the bottom center of the wrapper. Roll the corner closest to you over the filling.
3. Brush the 3 remaining corners with water. Fold in the sides of the wrapper and continue rolling the egg roll up until it is closed.
4. Press to seal, set aside, and continue with the remaining wrappers and filling.
5. In a large non-stick skillet, pour oil to a depth of 1/2 inch. Heat the oil to approximately 350 degrees. Fry the egg rolls, in batches, for about 2 - 3 minutes or until golden brown, turning occasionally. Drain on paper towels.
6. Serves with Bleu cheese dressing and additional Buffalo wing sauce on the side.
Cheesy Corn Dip With Bacon and Jalapenos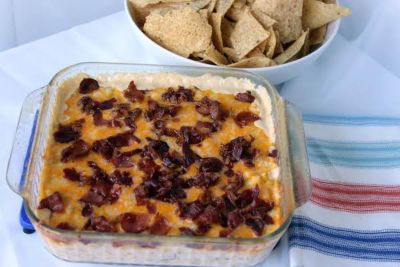 Ingredients
24 oz corn frozen, or canned & drained
1 pkg bacon
8 oz cream cheese
2 c Mexican blend shredded cheese
1 can chopped jalapenos, undrained, 4 oz
1/2 c milk
Directions
1. Cook bacon then set aside to cool.
2. In a saucepan put corn, cream cheese, jalapenos, milk, and half of the shredded cheese.
3. Heat until blended and cheese melted. Remove from heat.
4. Cut the bacon into small pieces and add half to the corn mixture. Mix completely.
5. Transfer mixture to oven-safe pan. Top with remaining shredded cheese and bacon pieces.
6. Cook at 350 in the oven or microwave until cheese is melted. Serve with tortilla chips.
Game Day Beer Pretzchos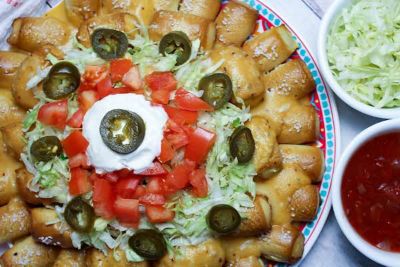 Ingredients
1-2 bags soft pretzel nibs
2 1/2 c shredded cheddar cheese
4 oz Gouda cheese
1 Tbsp all-purpose flour
1 c German beer
2 Tbsp spicy brown mustard
Few drops each hot sauce & Worcestershire sauce
Topping
Shredded lettuce
Chopped tomatoes
Sliced jalapenos
Sour cream
Directions
1. For cheese sauce, combine cheeses in a bowl with flour.
2. Place beer in a small pot. Bring up to bubble on medium heat.
3. Reduce heat to a simmer, adding cheeses in handfuls.
4. Stir constantly until melted.
5. When melted add hot sauce, mustard, and Worcestershire.
6. Warm pretzels as per directions on package. Oven method works the best for these. Don't forget to top with the extra pretzel salt they give you with the pretzels.
7. Place pretzels on a large plate. Pour cheese over, then top with rest of the topping ingredients and serve.
My Daytona Hot Wings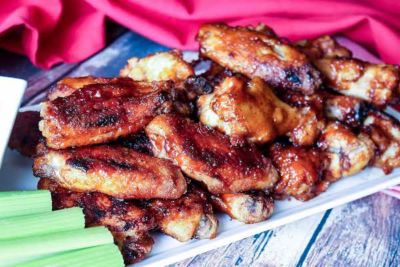 Ingredients
WING MIX
1 package chicken wings (approx. 3 - 4 lbs)
3/4 c all-purpose flour
1 1/2 tsp smoked paprika
1 tsp paprika
1 tsp pepper
1/2 tsp salt
Olive oil spray
SAUCE
3/4 c Kraft Original BBQ Sauce
1/4 c Frank's Original Cayenne Pepper Sauce
1/4 c honey
3 Tbsp brown sugar
1 Tbsp garlic powder
1 Tbsp soy sauce
1 tsp corn starch
Crushed red pepper flakes (to taste)
Directions
1. In a 1-gallon resealable baggie, put the ingredients for the wing mix in. Turn over several times to mix ingredients together.
2. Spray a large baking sheet with the olive oil spray.
3. Cut wings apart, so you have two pieces
4. Put 4 or 5 wings into the resealable bag and turn over and over to coat.
5. Remove wings and shake excess off and place on pan. Repeat until all wings are coated.
6. Bake at 375 degrees for 15 minutes.
7. Take out and turn all wings over. Return to oven for another 20 minutes.
8. While wings are finishing up, start sauce.
9. Put all sauce ingredients into a saucepan and start cooking over a medium-low heat. When adding crushed red pepper flakes, it is up to you how hot you would like your wings. The more you add, the hotter they will be.
10. Cook until sauce thickens. Takes about 15 minutes.
11. When wings are finished baking, remove from oven and turn oven to broil.
12. Using a brush, brush sauce onto all sides of the wings.
13. Return to oven and broil about 5 minutes. This gives the wings a glazed look.
14. Serve with your choice of blue cheese, ranch dressing or just as they are.
Our Favorite Garlic Parm Wings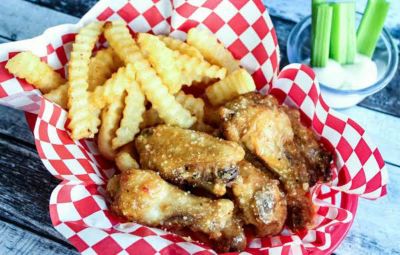 Ingredients
2 lb chicken wings, pieces, tenders, etc.
1 lb butter, melted
1/2 c hot sauce
1 pkg Good Seasons Parmesan Italian dry mix
2 clove garlic, minced fine
4 Tbsp Parmesan cheese
Drizzle of honey for balance, to taste
Directions
1. Fry, bake, broil or cook your chicken any way you like it.
2. In a saucepan, melt butter slowly with garlic.
3. Then add all other ingredients with butter off of the heat.
4. Toss freshly cooked, hot chicken with the garlic Parmesan sauce.
Sammi's Crack Dip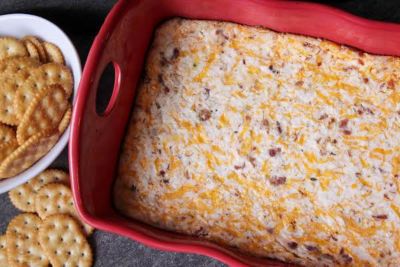 Ingredients
8 oz cream cheese, softened
1 pkg ranch dressing mix (1 oz)
1 bottle prepared bacon bits (3 oz)
2 c shredded cheddar cheese
16 oz sour cream
Directions
1. Preheat oven to 400 degrees.
2. In a bowl, combine all ingredients. Mix well.
3. Transfer to 2-quart baking dish.
4. Cover with foil.
5. Bake for 25-30 minutes or until hot and bubbly.
Stromboli Joes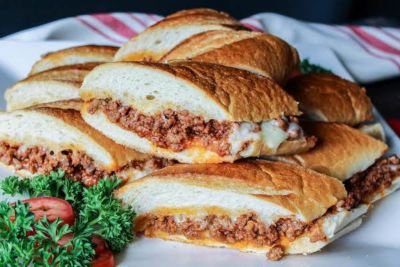 Ingredients
2 lb ground beef
1/4 c finely chopped onion
1 c catsup
1 c tomato sauce
1/4 c grated Parmesan cheese
2 tsp garlic powder, divided
1 tsp dried oregano
1/2 tsp fennel seed
1/2 tsp Italian seasoning
1/2 c butter, softened
2 lb loaves Italian bread, halved lengthwise (1 each)
2 c shredded mozzarella cheese (8 oz.)
Directions
1. In a Dutch oven, cook beef and onion over medium heat until meat is no longer pink; drain.
2. Stir in the catsup, tomato sauce, Parmesan cheese, 1/2 tsp garlic powder, oregano, fennel seed and Italian seasoning.
3. Bring to a boil. Reduce heat. Simmer uncovered for 15 minutes or until thickened, stirring occasionally.
4. In a small bowl, combine butter and remaining garlic powder.
5. Spread over top halves of bread.
6. Sprinkle 1/2 cup mozzarella cheese over each bottom bread half.
7. Spoon meat mixture over top.
8. Sprinkle with remaining mozzarella cheese.
9. Replace bread tops.
10. Wrap each sandwich loaf in foil. Bake at 350 degrees for 25 - 30 minutes or until cheese is melted.
11. Slice eight pieces from each loaf.
Touchdown Sammies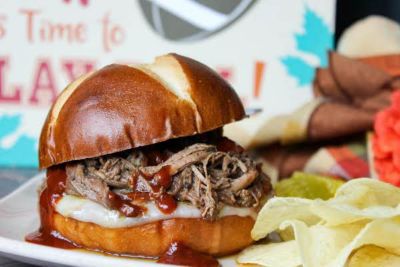 Ingredients
5 lb boneless chuck roast
2 pkg Good Seasons Zesty Italian dressing mix
1 Tbsp fresh ground black pepper
1 Tbsp dried oregano
1 Tbsp dried basil
1 Tbsp dried parsley
1 Tbsp onion powder
1 Tbsp garlic powder
2 c beef stock
1 c stout beer
Directions
1. Put the meat and all of the ingredients in an oval slow cooker (small Crock Pot will not be big enough). Cover and cook on low for 10-12 hours.
2. Remove the meat from the Crock Pot (should be fork tender) and shred it using 2 forks.
3. Return the meat to the juices and continue cooking on low for another 30 minutes up to an hour.
4. Keep warm and serve. Serve on hoagie buns and top with sauteed onions, peppers, and mushrooms; melt provolone on top under the broiler. Or, set out buffet style with different bread and condiments such as horseradish, mayo, BBQ sauce, mustard.