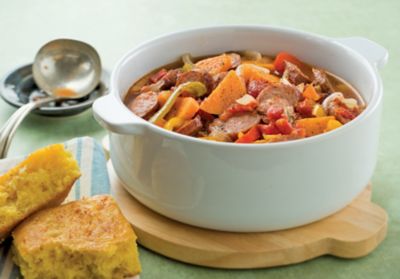 Makes a good and filling meal in the fall and winter
Tom's Kielbasa Stew
"Since I really like kielbasa, I have experimented with different ways to cook it," writes Tom Snipes, of Mebane, N.C. "Depending on your preference and diet, you can choose the low-fat or turkey versions of kielbasa. They all taste good, and it's really easy to prepare."
"The flavors really complement each other," he adds. "It makes a good and filling meal in the fall and winter, but I make it year round."
Ingredients:
1 lb. kielbasa (any flavor you like)
2 large sweet potatoes, peeled and thinly sliced
1 large onion, thinly sliced
1 14.5-oz. can diced tomatoes
1 10-oz. can Rotelle tomatoes (hot or mild to taste)
Salt and pepper to taste
1 red, green, or yellow bell pepper, thinly sliced (optional)
Dash or two of Tabasco (optional)


Directions:
Prepare all ingredients and simmer in large skillet until sweet potatoes, pepper, and onions are tender, about 15-20 minutes.
Serve with cornbread for a meal.
Serves 6-8.
Note: If you do not like spicy food, use two cans of diced tomatoes and eliminate the Rotelle and Tabasco.