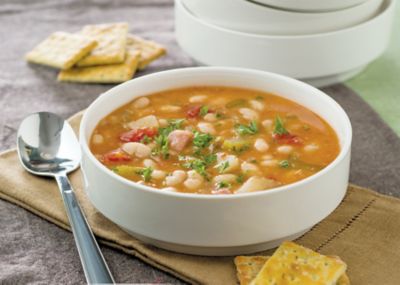 Just the thing on a cool day.
Hearty Bean Soup
"This filling bean soup is just the thing on a cool day after working or playing outside," writes Jennie Zeitler, of Royalton, Minn. "It can easily be doubled to feed a crowd."
Ingredients:
2 cups dry Great Northern beans
1 ham bone or leftover ham
½ cup onion, chopped
1 cup celery and leaves, chopped
2 15-oz. cans tomatoes
1 cup potatoes, diced
1 tsp. salt
½ tsp. pepper
½ tsp. baking soda
Water or broth as needed
Directions:
Rinse the beans and put in stock pot with 6 cups of water. Boil for 2 minutes, then remove from heat and let stand for 1 hour.
Simmer beans without draining until tender, about 2 hours, adding more water if necessary.
In the meantime, simmer ham bone in water to cover for about 30 minutes. Skim fat from the broth and add the tender beans.
Stir in the remaining ingredients and simmer until the potatoes are tender, about 20 minutes. Adding the baking soda can decrease the gassy effects of the beans.
Add other vegetables if desired, increasing cooking time if necessary.
Serves 14-16.