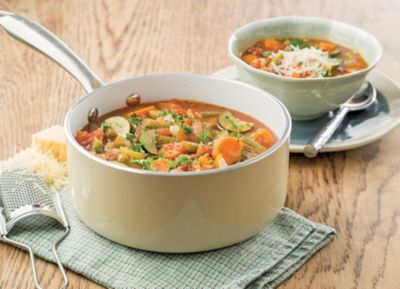 Ingredients in this zesty vegetable soup could come straight from the garden.
Garden Vegetable Soup
Ingredients in this zesty vegetable soup from Cheryl Miller, of Cedar Grove, Ind., could come straight from the garden.
Ingredients:
2 Tbsp. butter
2 Tbsp. vegetable oil
1 cup carrots, sliced
1 cup celery, sliced
1 large onion, chopped
1 clove garlic, crushed
9 medium-sized tomatoes or 2 16-oz. cans of tomatoes
1 tsp. crushed oregano
1 tsp. crushed basil
1 tsp. salt
¼ tsp. pepper
1 13.75-oz. can beef broth
¼ lb. green beans, washed, trimmed and cut in 1-inch pieces
½ lb. zucchini, cut in half lengthwise, thinly sliced
¼ cup fresh parsley, chopped
Grated Parmesan cheese
Directions:
Heat butter and oil in Dutch oven over medium heat.
Sautee carrots, celery, onion and garlic for 5 minutes.
For canned tomatoes, skip to step 5. For fresh tomatoes, peel and cut in half crosswise. Place strainer over large bowl; remove seeds by squeezing tomatoes gently over strainer.
Chop pulp and add to tomato juice in bowl.
Add tomatoes and juice to Dutch oven; add oregano, basil, salt, and pepper; simmer 15 minutes.
Add beef broth and green beans; simmer 20 minutes longer.
Add zucchini and parsley; simmer 10 more minutes.
Serve with Parmesan cheese.
Serves 6-8.