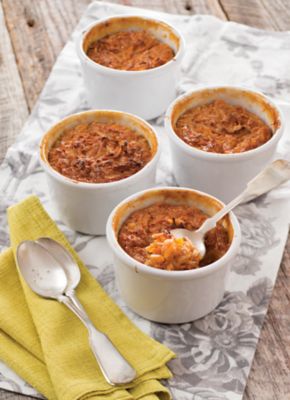 Favorite Family Recipes
The best recipes are those passed along as family favorites.
Photography by Mark Mosrie
Food styling by Whitney Kemp
The Thanksgiving turkey or Christmas ham is most likely a traditional mainstay at your holiday feasts. But these tasty side-dish recipes from Out Here readers will round out your bountiful holiday table as you gather to celebrate the season with your family and friends.
Sweet Potato Pudding
"I want to share a recipe that I grew up with as a child," writes Pam Anello, of Ocean Isle Beach, N.C. "I grew up on a tobacco farm, and sweet potatoes were always a treat!"
2 eggs, beaten
¾ to 1 cup sugar
2 cups raw sweet potatoes, grated
1 13-oz. can evaporated milk
½ cup milk
½ tsp. ground cinnamon
½ tsp. ground nutmeg
½ tsp. salt
½ cup butter or margarine, melted
1 cup flaked coconut
Combine eggs and sugar in a large mixing bowl, beating well.
Stir in remaining ingredients.
Pour into a greased 1½-quart casserole dish.
Bake at 350 degrees for 1 hour.
Serves 6-8.