Recipe - Roasted Corn on the Cob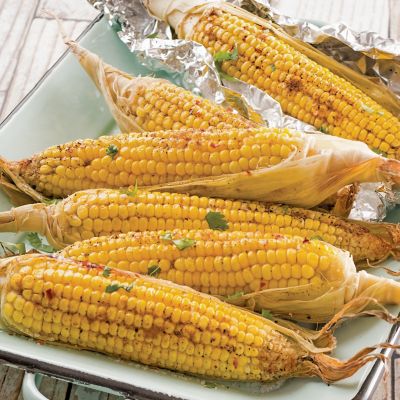 Photography by Mark Mosrie
Food styling by Whitney Kemp
"This dish works only with fresh corn on the cob," writes Toni Bercha, of Aurora, Colo. "Frozen ears are just too mushy, even when they're completely thawed out first."
4 ears fresh corn
1 stick butter, melted
Olive oil to taste
2 Tbsp. (or more to taste) ground cumin
1 tsp. kosher salt
1 or 2 Tbsp. garlic, chopped or minced
1 handful fresh cilantro
Sprinkle of red pepper flakes (optional)
Fresh cracked pepper
Preheat oven to 400 degrees.
Place each ear of corn in an individual foil packet. Pour butter and olive oil over each ear and roll each ear to saturate it. Be generous with the butter and oil; you need to keep the spices moist while baking or grilling.
Add the spices to taste.
Bake for 30-45 minutes, depending on your oven. Or grill for 15-20 minutes.
Serves 4.
Cook's note: I serve this with lamb chops and use the spices in the corn packets as a dip for the lamb chops.