Recipe - Fresh Herb Spring Rolls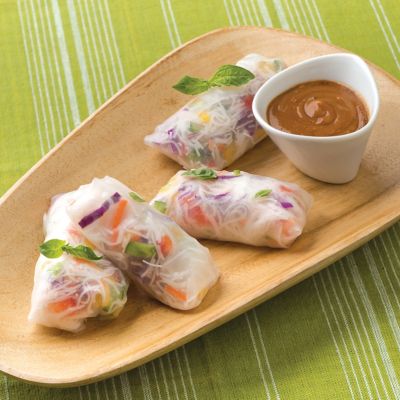 A refreshing change from the usual fried variety.
Photography by Mark Mosrie
Food styling by Whitney Kemp
"I love growing a variety of herbs, and this recipe is a wonderful way to use fresh vegetables from the garden, as well," writes Marci Nafzier, of Lowville, N.Y. "These spring rolls have become a family favorite and are a refreshing change from the usual fried variety."
Ingredients:
2 "nests" of mung bean vermicelli (can be found at Asian markets)
1 cup fresh cilantro, chopped
1 cup fresh basil, chopped
2 cups cabbage, shredded
2 cups carrots, grated
1 cucumber, finely diced
½ small green bell pepper, finely diced
½ small yellow bell pepper, finely diced
½ small red bell pepper, finely diced
1 package spring roll sheets
Directions:
Bring 4 cups of water to a boil. Remove from heat and add vermicelli.
Allow to sit in water for 3 minutes. Drain. Rinse in cold water. Drain again and chop.
Mix together vermicelli, cilantro, basil, cabbage, carrots, cucumber, and peppers.
Open spring roll sheets. Keep covered with a damp towel while working with them so they don't dry out.
Spread ¼ cup of vegetable mixture on center of one spring roll sheet. Fold up the bottom corner, tucking the stuffing in. Next, fold the left corner and then the right corner, and then roll up toward the top.
Spread a little water on the edge of the top fold and press to seal.
Cut in half and serve with dipping sauce.
Dipping Sauce:
1 cup rice vinegar
2 Tbsp. peanut butter
1 Tbsp. sugar
2 Tbsp. sweet chili sauce
Whisk together all ingredients.
Yields 20 small rolls or 12 large.