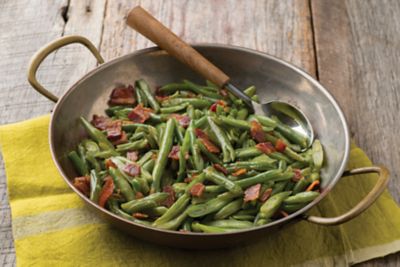 Baked Green Beans
"This is a Christmas fave!" writes Yolanda Martin, of Bennington, Vt.
1 package (16 oz.) frozen French-style green beans, thawed
2 bacon strips
1 beef bouillon cube
1 cup hot water
¼ to ½ tsp. garlic salt
Pinch pepper
Place the beans in an ungreased 1½ -quart baking dish; set aside.
Cook bacon until crisp; remove with a slotted spoon. Crumble and set aside.
Stir 1 Tbsp. of drippings into beans.
Dissolve bouillon in water, add garlic salt and pepper. Pour over beans.
Cover and bake at 350 degrees for 1 hour.
Remove from oven and top with bacon.
Serves 6.