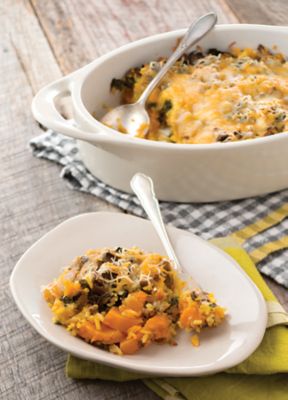 Butternut Squash Casserole
"This is my favorite meal, especially in the fall and winter seasons," writes Claudia Labbe, of Oxford, Fla. "Try it for yourself and it will become a fast favorite!"
1 lb. yellow rice, uncooked
4-6 full leaves of kale or spinach, washed and shredded
1 medium-large butternut squash, peeled, split in half, de-seeded, and sliced
1 lb. country sausage (or spicy/sweet to suit your preference)
½ cup mushrooms, sliced
½ cup mild onions, chopped
Salt and pepper to taste
1 8-oz. package shredded Mexican blend/4-cheese package
Cook kale or spinach with yellow rice as per the instructions on the bag until the water has been absorbed, then turn off heat.
Preheat oven to 350 degrees and line a casserole pan/lasagna pan with aluminum foil. Spread sliced squash to cover most of the pan surface.
Saute the sausage with the mushrooms and onions to lightly brown them. Add salt and pepper.
Mix the sausage, mushrooms, onions, and half the cheese with the rice mixture and spread into the casserole pan over the squash.
Cover the casserole pan with aluminum foil and bake 30 minutes.
Remove the aluminum cover and sprinkle more cheese on the top until it lightly browns in the oven.
Serves 18-20.
From the Out Here kitchen: This casserole is so hearty that it could serve as a meal's main dish.