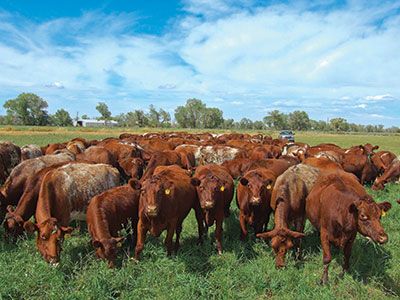 Making Butter
By T.L. Dew
Why would you make your own butter? That's not the question, according to Wendy French Barrett, who has been making butter for seven years. The question is, why not make it? "It's super easy," Wendy says. "It's free of preservatives and any other kinds of added ingredients. You can control the amount and quality of your salt. It just tastes so much better."
Wendy, who always had a passion for cooking, decided one weekend to try making butter for her family. After tasting it, her grandfather said the homemade spread reminded him of his childhood. "We never looked back," says Wendy, whose personal passion has evolved into her own business venture. She now can be found selling butter — some sweet, some savory — at the Franklin Farmers Market in Franklin, Tenn., through a handful of stores in Nashville and through her website, wisebutternashville.com.
"I like to get creative," she says. Her most popular butter so far is the Roasted Garlic Basil Butter. Other customers fancy the sweeter blends such as Dark Wildflower Honey Butter. The beauty of butter is that you can flavor it according to your own tastes. Wendy recommends that all home cooks should try making it. Here's how:
That's it — you're finished. Now you can add salt or other flavors as you like. Wendy adds about one-fourth teaspoon of salt per stick, but season as you like. The whole process of making a batch of homemade butter takes about 25 minutes, she says. Homemade butter will stay fresh in the refrigerator for 3-4 days. Store it in a container with a lid.
Not ready to serve it? Freeze it by forming it into a tight log and rolling it in plastic wrap, getting out as much air as possible. Seal it on the ends, then put the wrapped butter in a freezer bag and pull the air out of that bag, too.