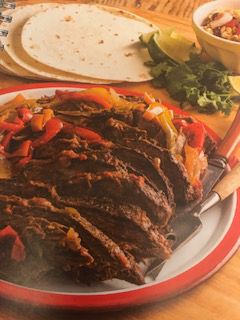 Venison Slow Cooked Fajitas
Trudy B. of Jerusalem, Ark., shares a Southwest dish easily prepared in a crock-pot.
2lbs. venison steak or roast
Fajita seasoning
1 cup medium chunky salsa
1 Tbsp. tomato paste
3 cloves garlic, chopped
Juice from 1 lime
1tsp. black pepper
2 large sweet onions, thinly sliced
1 each red, green, and yellow pepper (or all green if you don't have colored), thinly sliced
Flour tortillas
INSTRUCTIONS:
1. Coat slow cooker with vegetable spray. Turn to low.
2. Sprinkly venison with fajita seasoning on both sides and place in bottom of cooker.
3. Mix salsa, tomato paste, garlic, lime juice, and black pepper in small bowl. Spread mixture over meat.
4. Layer onions and peppers on top. DO NOT STIR.
5. Sprinkle with additional fajita seasoning.
6. Cook on low for 8 hours.
7. Remove vegetables and meat to platter and let rest for 5-10 minutes.
8. Slice meat and serve on flour tortillas with toppings of you choice (cheese, tomatoes, sour cream, etc.)
Serves 6-8.