Barbecued Burgers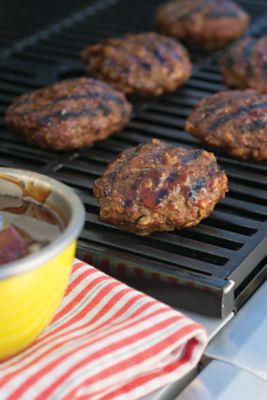 Submitted by Denise Patterson
"These burgers are luscious — moist, meaty, and with a zip," writes Denise Patterson of Bainbridge, Ohio.
Ingredients
Sauce:
1 cup ketchup
½ cup packed brown sugar
1/3 cup sugar
¼ cup molasses
2 tsp. prepared mustard
1½ tsp. Worcestershire sauce
¼ tsp. salt
¼ tsp. liquid smoke
1/8 tsp. pepper
Burgers:
1 egg, lightly beaten
1/3 cup quick-cooking oats
¼ tsp. onion salt
¼ tsp. garlic salt
¼ tsp. pepper
1/8 tsp. salt
1½ lbs. ground beef
6 hamburger buns
Fresh toppings of your choice
Directions
In a small saucepan, combine first nine ingredients. Bring to a boil, then remove from heat.
Set aside 1 cup of sauce to serve with the burgers.
In a bowl, combine the egg, oats, ¼ cup of the remaining sauce, onion salt, garlic salt, pepper, and salt.
Crumble beef over mixture; mix well; shape into 6 patties.
Grill covered over medium heat for 6-8 minutes on each side or until a meat thermometer reads 160 degrees. Baste with ½ cup sauce during the last five minutes.
Serve on buns with your favorite toppings and reserved sauce.
Yields 6 servings.