Deer Event Recipes
Thanks to Just A Pinch Recipes for sharing recipes.
Cajun Fried Turkey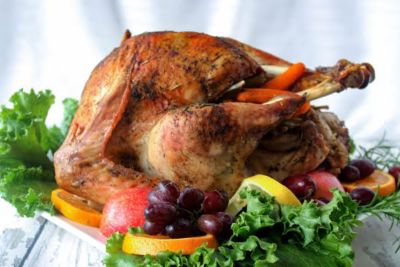 Ingredients
2 Tbsp smoked paprika
3 Tbsp Creole seasoning
1/2 tsp garlic salt
1 Tbsp poultry seasoning
2 1/2 gal peanut oil
14-20 lb turkey
Directions
1. To measure the amount of oil, put the turkey in the fryer and fill with water to cover the turkey.
2. Remove the turkey from the fryer. Mark the water line with a crayon or marker. This tells you how much oil to use.
3. Remove insides - giblets and all.
4. Wash the turkey.
5. Dry removing all moisture from turkey.
6. Mix all seasonings in a bowl.
7. Season turkey, making sure to lift skin and rub seasoning in.
8. Wrap with plastic wrap and refrigerate for 24 hours.
9. When ready to cook, fill fryer to line with oil and set to 400 degrees. It will take an hour for the oil to get completely heated.
10. Remove turkey from refrigerator right after setting temp on oil. This allows it to get room temperature. Lightly pat down the outside and inside of the turkey to remove moisture. By the time the oil is heated the turkey should be room temperature.
11. When the oil is heated, very slowly lower turkey in the oil.
12. Cook for 30-40 minutes. The meat thermometer should read 165 degrees.
13. Allow to rest for 30 minutes before serving.
Hunter's Sweet 'n Spicy Chili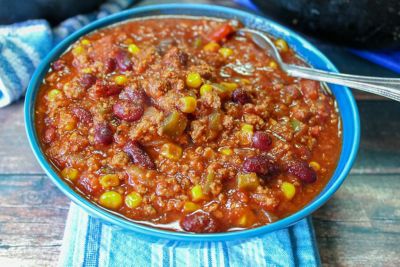 Ingredients
2 lb venison/ground beef mixture (equal parts of each)
1 large onion, chopped
1 large green pepper
1 can crushed tomatoes, 28 oz.
1 can stewed tomatoes, 14.5 oz.
1 can tomato sauce, 15 oz.
1 can corn, drained well, 15 oz.
1 can black beans, rinsed and drained, 15 oz.
1 can chili seasoned red kidney beans, not drained, 16 oz.
1/8 c BBQ sauce
1/8 c sugar, granulated
1 tsp cumin, ground
1/2 tsp each of garlic powder, parsley, and salt
1/4 tsp each of black pepper and cayenne pepper
1/4 tsp each of oregano, Italian seasoning, and basil
1/2 Tbsp chili powder
Directions
1. Saute ground beef/venison until almost all pink is gone. Pour off fat.
2. Add the bell peppers and onions.
3. Sauté until slightly soft, but not transparent.
4. Then the crushed tomatoes, stewed tomatoes, and tomato sauce.
5. Next, add the corn and beans.
6. Then add the BBQ sauce and seasonings.
7. Cook covered for at least one hour. Taste, then adjust spices as needed.
8. Uncover and cook for another 30 min – 1 hour.
9. Serve with homemade buttered cornbread.
10. What to do with leftovers? Serve over cooked bowtie pasta and top with cheddar cheese and a dollop of sour cream. You will never go back to your old chili recipe!
Backwoods Surf-n-Turf Andouille and Alligator Chili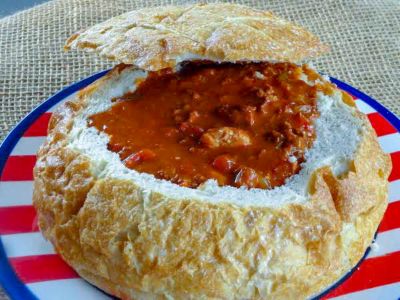 Ingredients
1/2 lb diced andouille sausage
1/2 lb alligator meat, diced
1 large bread bowl
3 tsp chili powder
2 tsp cumin
2 cans diced petite tomatoes, drained, 14.5 oz each
2 cans chili, no beans, 15 oz each
1 medium white onion, diced
1 medium green bell pepper, diced small
Salt and pepper, to taste
1 clove garlic, minced
3 tsp Creole seasoning
4 Tbsp unsalted butter, softened
Directions
1. Take the sausage and alligator and thoroughly season with the Creole seasoning.
2. Heat a heavy duty pot on high. Add the butter and let melt.
3. Once melted, cook the sausage and the alligator together until cooked all the way through. It will take about 10 min until golden brown.
4. Once cooked, drain on a paper towel-lined plate and set aside.
5. Take the onions, peppers, and garlic and sweat them in a pan on med-high heat, about 5 min or so.
6. Add the canned chili, tomatoes, and the seasoning.
7. Mix together and let simmer for 20 to 30 minutes.
8. After simmering for 10 minutes, add the meat and continue to let simmer.
9. Once it's finished simmering, cut the top of the bread bowl off (so it looks like a lid).
10. Take the inside of the bread out and fill with the chili.
Meaty or Vegetarian Foil Packets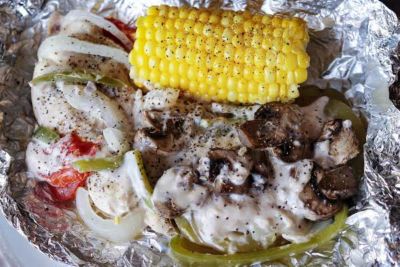 Ingredients
1 piece of meat (frozen ground beef, turkey, venison, or veggie patty; thawed chicken breast, pork chop, turkey cutlet, or small steak)
1 slice yellow onion
1 small potato, sliced thin
Green pepper slices
1 ear of corn
1 plum tomato, sliced thick
Sliced mushrooms
Dollops of cream soup, such as mushroom or celery
Salt and pepper, to taste
Directions
1. Oven set to 350 degrees.
2. Tear off large pieces of heavy-duty aluminum foil. Pinch together two sheets to make one big one.
3. Place frozen patty or thawed meat on foil. Season with salt and pepper. Add a slice of onion. Add the rest of the vegetables. Season with salt and pepper.
4. Using about 1/4 can per foil packet, dollop straight cream of mushroom or other cream soup directly onto ingredients.
5. Pinch up foil around ingredients and secure ends tightly.
6. Place packet on a cookie sheet and bake for approximately 45 minutes to 1 hour.
7. Remove from oven and carefully pull back the foil. Season with more salt, pepper, and butter, if desired.
8. Alternatively, this can be cooked on the grill or on hot coals turning while cooking to prevent burning.
Peggy's Venison Casserole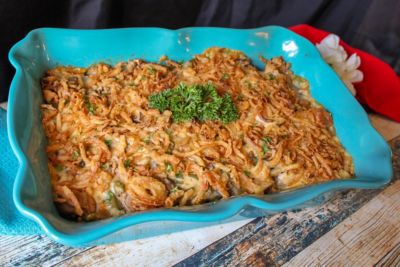 Ingredients
1 lb ground deer meat
1 medium onion, cut into slivers
3 ribs of celery, chopped
1 Tbsp garlic powder
1 tsp celery salt
3-4 medium red potatoes (not white)
2 cans green beans, drained, 14.5 each
1 can cream of mushroom soup, 10.5 oz.
1 can cream of chicken soup, 10.5 oz.
1 can French fried onions (optional)
6 fresh mushrooms, sliced thick
Salt and pepper
Directions
1. Brown ground meat, onions, and celery together.
2. Add garlic powder and celery salt. Drain.
3. Grease or spray a deep casserole dish. Next, slice the potatoes about 1/4' thick. Add a layer of potatoes to the bottom of the dish. Salt and pepper them.
4. Next, spread 1/2 of the burger mixture on top of the potatoes.
5. Now, add another layer of potatoes on top of that. Add salt and pepper.
6. Put the remaining burger mixture on top of that.
7. Drain green beans really good. Place on top of the last layer.
8. Spread on sliced mushrooms next.
9. Mix soups together.
10. Spread on top of the last layer. Do not add any water to this, as it makes its own juice.
11. Run a fork down through casserole in about 4 different places, just so soups can seep down through it.
12. Cover with lid or aluminum foil. Bake at 350 degrees for about 45 minutes or until you can stick a sharp knife down through casserole and the potatoes are done.
13. Then sprinkle on the French fried onions and leave uncovered.
14. Bake another 15 minutes or until onions start to brown. Remove from oven and let stand, uncovered, for about 15 minutes before serving.
Tender Venision Loin London Broil Style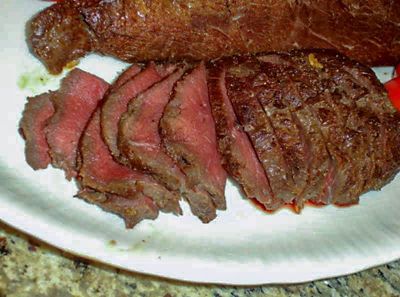 Ingredients
1/2 c soy sauce
4 Tbsp water
6 cloves garlic
2 Tbsp brown sugar
2 Tbsp vegetable oil
1 tsp ground ginger
1 tsp pepper
1 lb venison loin
Directions
1. Thinly slice the garlic and mix all ingredients together in a bowl.
2. Use venison backstrap (filet) whole or you may substitute moose, sheep or even beef. You may also use any roast cut.
3. Place meat in a resealable plastic bag and add marinade mix. Refrigerate for a minimum of 8 hours but preferably overnight, turning occasionally.
4. Place meat on broiler pan and discard marinade. Insert meat thermometer.
5. While this recipe uses the oven to bake the dish, you may also broil the meat in the oven (still using the meat thermometer) or grill. However, using an oven is the best insurance policy with cuts of wild game because the grill or broiler can quickly over-cook the meat.
6. Bake at 350 until the thermometer reads 10 degrees before the desired level: 130-135 for rare, 135-140 for med rare but never more than 145 degrees (for beef, 120-130 rare, 130-135 med rare, 135-140 med). Let meat rest for 5 minutes upon removal from oven.
7. Take out at 120 degrees and allow to sit 5 minutes. The meat will continue to cook and juices will redistribute.
8. After resting for 5 minutes, slice thin (about 1/8th inch slices) and serve. Slicing thin is another secret to unlocking the flavor and texture.
Rocky Road Fudge Bars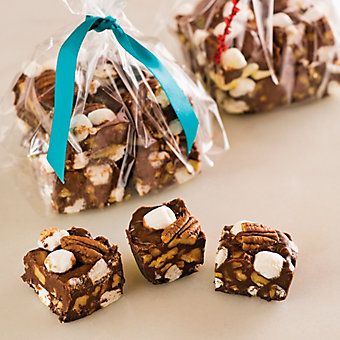 Submitted by Khiquita Young, of Crystal Springs, Miss.
These rich, sweet, and decadent fudge bars, courtesy of Khiquita, make a perfect holiday gift — for someone else or yourself.
Ingredients
1 stick butter or margarine
1 can sweetened condensed milk
1

½

cups chocolate chips or 1 pkg. microwavable almond chocolate coating cubes
1 tsp. vanilla extract
1 cup walnuts, chopped
1 cup pecans, chopped
Butter flavor spray (Pam)
2 cups miniature marshmallows
Directions
Place the stick of butter or margarine into a large microwavable bowl. Cook for 20 seconds or so until completely melted. Pour condensed milk and chocolate chips or almond cubes into bowl. Do not stir. Place it in the microwave on high for 2½ minutes until melted. Stir mixture until texture is smooth. Add vanilla extract, walnuts, and pecans. Stir mixture until smooth.
Coat 8x8 brownie pan with butter-flavor cooking spray. Pour one cup marshmallows into pan. Spread to cover the entire bottom. Pour mixture on top of marshmallows. Smooth the mixture until marshmallows are covered. Pour the second cup of marshmallows on top. Press them down gently into the mixture until marshmallows are dissolved midway into mixture. Chill for 2 hours until texture is firm. Remove fudge. Cut into squares or cube form then serve.
Serves 36.