Holiday Recipes
Thanks to Just A Pinch Recipes for sharing recipes.
Whole Ham Glazed With Red Wine and Spices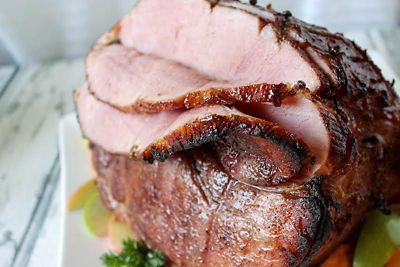 Ingredients
15 lb fully cooked bone-in whole ham
1/2 c honey
1/2 c dry red wine
1/4 c pineapple juice
2 Tbsp butter
1 1/2 tsp ground black pepper
1 tsp ground nutmeg
1/2 tsp ground cloves
1/2 tsp ground ginger
1 Tbsp Dijon mustard
Whole cloves for studding ham (optional)
Directions
1. Preheat oven to 325F.
2. Place ham, fat side up, on rack in roasting pan; pour in 2 cups water.
3. Cover pan tightly with foil; roast for 2 hours, adding more water if necessary to maintain level.
4. If ham has skin, slide a sharp knife under the skin and lift off. (Discard skin or save for making ham broth for split pea soup).
5. Trim fat layer to 1/4-inch (5 mm) thickness. Discard trimmed fat. Diagonally score fat to form a diamond pattern.
6. In a small saucepan, combine honey, red wine, pineapple juice, butter, pepper, nutmeg, cloves, and ginger over medium heat, stirring occasionally, until butter is melted. Stir in Dijon mustard; let cool slightly.
7. Brush enough of the glaze over ham to cover; stud center of each diamond pattern with clove.
8. Roast ham, uncovered and brushing several times with remaining glaze, for 45 to 60 minutes or until meat thermometer inserted in center registers 140°F. Transfer to cutting board and tent with foil; let stand for 15 minutes.
9. To carve ham, cut down to bone into 1/4-inch thick slices. With knife parallel to bone, cut off slices along bone. Turn remaining meaty portion up; repeat carving.
Sausage and Potato Stuffing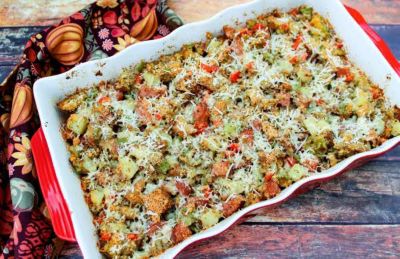 Ingredients
2 large red potatoes, cubed
2 c fully-cooked smoked sausage, cubed
1 red bell pepper, chopped
1 green bell pepper, chopped
1/2 white onion, chopped
4 garlic cloves, minced
11 oz seasoned croutons
3 c chicken broth
1 Tbsp chicken bouillon
1 tsp black pepper
1 Tbsp Italian herb seasoning
3/4 c grated Parmesan cheese
1 qt water
Directions
1. Preheat oven to 400F.
2. Bring water to a boil in a medium size pot. Add cubed potatoes, cover, and cook for 10-15 minutes.
3. Meanwhile in a large pan, sauté garlic, onions, and bell peppers until onions are translucent and peppers are soft.
4. Add chicken broth, bouillon, pepper, and Italian seasoning. Stir and simmer for 1-2 minutes.
5. Add sausage. Stir for another minute.
6. Drain potatoes and add to the sausage and broth mixture. Turn heat off and remove from stove.
7. Slowly, add croutons. Stir gently until broth has been absorbed.
8. Transfer stuffing into a deep, oven-proof dish. Sprinkle with Parmesan cheese and bake for 20 minutes at 400 degrees or until top layer of croutons are golden brown.
Old Fashioned Soft and Buttery Yeast Rolls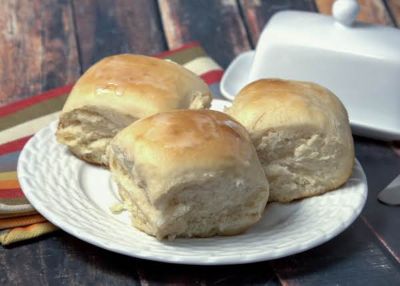 Ingredients
1 pkg active dry yeast (equals 2 1/4 tsp)
1/4 c warm water
1/3 c white, granulated sugar
1/4 c butter, softened
1 tsp salt
1 c hot milk
1 egg, lightly beaten
4 1/2 c sifted all-purpose flour
2 Tbsp butter, melted (for brushing rolls)
Directions
1. Sprinkle yeast over very warm water in large bowl. Stir until yeast dissolves. Leave to foam about 10 minutes.
2. Add sugar, the 1/4 cup butter and salt to hot milk and stir until sugar dissolves and butter is melted. Cool mixture to 105 to 115 degrees.
3. Add milk mixture to yeast and then mix in egg. Beat in 4 cups of the flour, 1 cup at a time, to form a soft dough. Use some of remaining 1/2 cup flour to dust a pastry cloth.
4. Knead the dough lightly for 5 minutes. Use remaining flour for flouring pastry cloth and your hands.
5. Place dough in a warm, buttered bowl; turn greased side up. Cover and let rise in warm place until doubled in bulk, about 1 1/4 to 1 1/2 hours.
6. Punch dough down and knead 4 to 5 minutes on a lightly floured pastry cloth. Dough will be sticky, but use as little flour as possible for flouring hands, otherwise rolls will not be as feathery light as they should be.
7. With large knife, cut dough ball into four (4) pieces. Cut each piece into four (4) more pieces OR simply pinch off small chunks of dough and roll into round balls about 1 3/4 inches in diameter. As you roll into balls, pull sides down and under to shape roll. Place bottom side down in neat rows, not quite touching, in well-buttered 13 X 9 X 2 inch pan.
8. Cover rolls and allow to rise in warm place until doubled in bulk; 30 - 45 minutes. When doubled in bulk, brush tops with melted butter and bake in 375 degree F oven for 18 - 20 minutes or until nicely browned. If your oven runs hot bake at 325 so tops do not brown before rolls are done inside. Adjust your oven temp accordingly.
9. If desired, brush (or bathe!) rolls in more melted butter when they are hot. The butter will sizzle down sides and bottom of rolls for a buttery soft crust.
Delectable Bacon & Mushroom Green Bean Casserole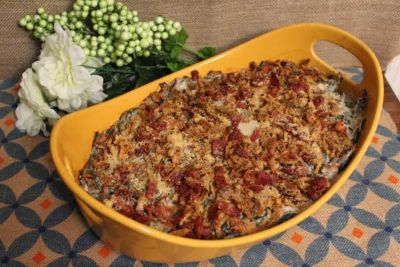 Ingredients
3 lb fresh green beans,trimmed and chopped in half
8 oz stemmed, sliced cremini mushrooms
1 large white onion, chopped
1/2 stick butter or margarine
1 pkg center cut bacon
1 pkg French fried onions, 6 oz
2 cans cream of mushroom soup, 10.5 oz each
32 oz chicken broth or stock
1-2 tsp garlic powder and fresh chopped garlic (to your liking)
Several shakes grated Parmesan cheese·
Salt to taste and lots of pepper
Directions
1. Chop and dice everything that needed it to save time.
2. Boil the green beans covered on med/high heat in the chicken broth with salt and pepper until tender (about 10 minutes). Not too tender because you don't want soggy green beans.
3. While they were boiling, cook the bacon until crispy and drain on paper towels. Chop and set it off to the side.
4. When the green beans are done, drain them and leave them in the pot uncovered.
5. Sautee the mushrooms and onion in butter with a pinch of salt and pepper until the mushrooms have shrunk down and the onions are tender. While they're cooking, add the garlic.
6. Add the mushroom/onion mixture and the cream of mushroom soup to the green beans with another pinch of salt and pepper.
7. Toss to coat and then dump into a casserole dish with the mushroom mixture, 1/2 of the bacon, and 1/2 of the French fried onions. Stir. Then sprinkle Parmesan cheese on top and bake on 400 for about 15-20 minutes until bubbly.
8. Top with the remaining French onions, bacon, and another generous sprinkle of Parmesan cheese.
9. Return to the oven for another 15 minutes or until the French fried onions start to get a nice brown color.
Cranberry Walnut Bread Pudding A La Yum!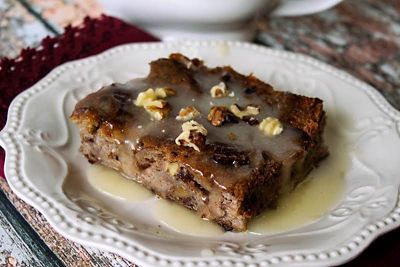 Ingredients
8 c artisan cranberry walnut bread (can use other breads such as raisin, cinnamon or plain white bread)
2 c heavy whipping cream
2 c whole milk
1/2 c unsalted butter
4 eggs
4 tsp vanilla extract
2 Tbsp ground cinnamon
SAUCE
2/3 c heavy cream
2 c granulated sugar
1 c unsalted butter
4 Tbsp rum extract
Directions
1. Preheat oven to 350 degrees.
2. Coat a large casserole dish with non-stick baking spray.
3. Cut bread into 1" pieces, placing them in a large mixing bowl.
4. Mix whipping cream and milk together. Stir in 1/2 cup of unsalted butter and cook over a medium heat until butter is melted.
5. Stir this milk mixture into the bowl of bread cubes. Let mixture stand for 20 minutes so liquid can absorb into bread pieces.
6. Beat eggs slightly to blend. Add vanilla and ground cinnamon.
7. Pour into mixture. Mix well.
8. Pour into prepared baking dish.
9. Bake for 1 to 1 1/2 hours until bread pudding is set and golden brown.
10. To make the sauce, put heavy cream, butter, and sugar in a saucepan. Cook on low heat until sugar is dissolved. Do not boil. Add rum extract and stir well.
11. Pour rum sauce over hot bread pudding just before serving.
12. Keep refrigerated in separate containers and heat before serving leftover bread pudding.
Bacon and Brown Sugar Topped Sweet Potato Bake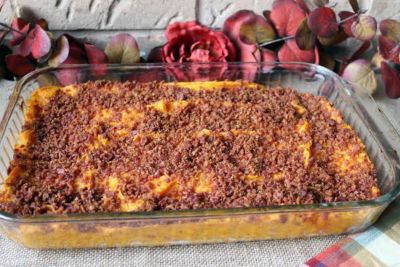 Ingredients
4 large sweet potatoes
1/4 c milk
1/2 c butter, softened
2 eggs
1 tsp seasoned salt
1/2 tsp pepper
1/4 tsp garlic powder
6 slices bacon
3 Tbsp brown sugar
Directions
1. Bake sweet potatoes for approximately one hour in a 350 degree oven. Let cool until you can touch them and peel sweet potatoes.
2. Preheat oven to 350. Grease a casserole dish with cooking spray.
3. In a large bowl, mash sweet potatoes. With electric mixer, beat in all ingredients EXCEPT bacon and brown sugar. Beat until well blended and spread evenly into casserole dish.
4. Fry bacon until crisp.
5. Crumble bacon and combine with brown sugar. I like to process mixture in food processor.
6. Sprinkle evenly on top of sweet potato mixture.
7. Bake for 30-35 minutes.
Christmas Morning Casserole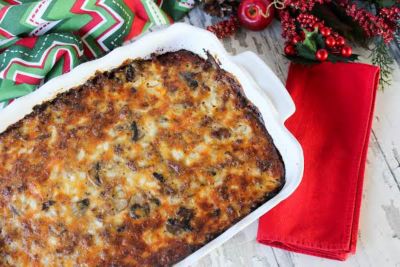 Ingredients
1 lb pork sausage
4 c shredded potatoes
1/4 stick salted butter, melted
3/4 c shredded onion
16 oz cottage cheese
12 oz mild cheddar cheese
9 large eggs
1 c sliced mushrooms
1 tsp salt
1/2 tsp pepper
1/4 tsp garlic salt
Directions
1. Preheat oven to 375F.
2. In a large skillet, saute pork sausage, onions, and mushrooms. Cook on medium high until sausage is no longer pink. Sausage should be crumbled. Drain and set aside.
3. Shred potatoes or use frozen shredded potatoes. If shredding your own potatoes, make sure to drain and press out as much moisture as possible.
4. In a 13x9 glass baking dish, add shredded potatoes and 1/4 stick of melted butter, mix potatoes and butter until completely coated. Using a spatula, spread mixture evenly onto bottom of baking dish.
5. In a mixing bowl, combine cottage cheese, shredded cheese, eggs, sausage/mushroom/onion mixture, salt, pepper and garlic salt. Mix well.
6. Once mixed, pour onto prepared shredded potatoes.
7. Bake at 375 degrees, uncovered, for 60 minutes.
Easy Pumpkin Pie with Brown Sugar Topping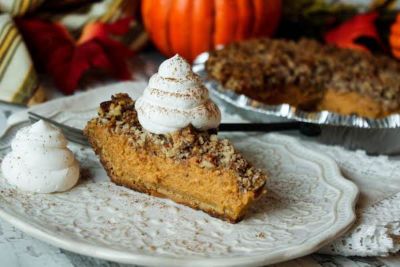 Ingredients
1 graham cracker pie crust
1 can pumpkin, 15 oz
1 can sweetened condensed milk, 14 oz
1 egg
1 1/4 tsp pumpkin pie spices
1/2 tsp salt
2 Tbsp all-purpose flour
2 Tbsp cold butter
1/4 c brown sugar, packed
3/4 c chopped pecans
Directions
1. Preheat oven to 425.
2. In a mixing bowl, combine pumpkin, condensed milk, egg, pumpkin pie spice, salt. Mix well.
3. Pour into pie crust.
4. Bake 15 minutes. Remove from oven. Reduce temperature to 350.
5. In a small bowl, combine brown sugar, flour. Cut in margarine until crumbly.
6. Stir in pecans (if using). Sprinkle mixture evenly over pie.
7. Bake 40 minutes or until knife inserted 1 inch from the edge comes out clean.
Nutmeg Christmas Cookies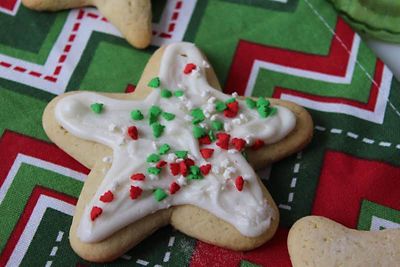 Ingredients
1/2 c butter flavor shortening
1 1/2 c sugar
2 eggs
1 tsp nutmeg
1 1/2 tsp baking powder
1 tsp baking soda
1 tsp vanilla
1 c eggnog
5 c flour
Directions
1. Cream the shortening and sugar.
2. Add eggs, nutmeg, baking powder, baking soda, and vanilla mixing in between each addition.
3. Alternate adding the flour and eggnog.
4. It will be a little sticky but remember these are a rolled cookies so they will pick up the flour from your board.
5. Lightly flour your board, roll to about 1/4" thick. Thicker if you like a softer cookie.
6. Cut out with your choice of cutters.
7. Bake at 400 for 8-10 minutes; 2-4 more if you want a crispy cookie. Let cool.
8. Frost with your favorite frosting.