Recipe - Sour Cream Lemon Pie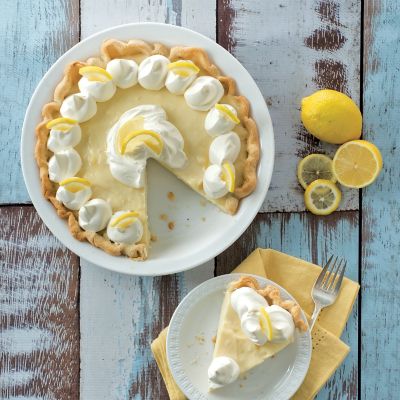 Photography by Mark Mosrie
Food styling by Whitney Kemp
"Here is a recipe that has been in my family of 13 for a while," writes Verna Schwartz, of Fillmore, N.Y.
Ingredients:
1 cup sugar
3½ Tbsp. cornstarch
½ cup fresh lemon juice
3 egg yolks, slightly beaten
1 cup milk
¼ cup butter
1 cup cultured sour cream
9-inch baked pie shell
1 cup heavy whipping cream, whipped
Directions:
Combine sugar, cornstarch, lemon juice, egg yolks, and milk in heavy saucepan. Cook over medium heat until thick.
After mixture is cooked, stir in butter and sour cream.
Pour into baked pie shell, let cool.
Spread on whipped topping and serve.
Serves 6-8.