Blueberry Pound Cake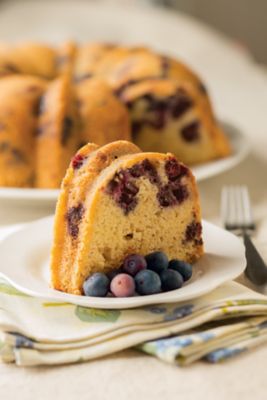 Submitted by Kathy Cockfield
"This cake is good any time, and it's not too sweet," writes Kathy Cockfield, of Hemingway, S.C.
Ingredients
1 cup plus 2 Tbsp. butter, divided
2¼ cups sugar, divided
4 eggs
1 tsp. almond extract
3 cups self-rising flour, divided
2 cups blueberries
Directions
Grease tube pan with 2 Tbsp. butter, sprinkle pan with ¼ cup sugar; set a side.
Cream remaining butter and gradually add 2 cups sugar, beating well.
Add eggs one at a time, beating well after each.
Add almond extract, mix well.
Add 2¾ cups flour gradually to creamed mixture, beating until well blended.
Dredge berries with remaining ¼ cup flour, stir gently to coat well. Fold into batter gently.
Pour into pan; bake at 325 degrees for one hour or until cake tests done. Cool in pan 10 minutes; remove from pan and cool completely.
Yields 16 servings.