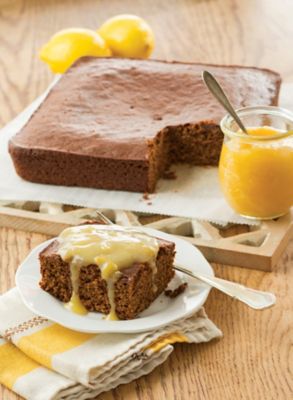 Soft Gingerbread with Tangy Lemon Sauce
"When the weather starts getting crisp I begin thinking of our favorite fall and winter treat, Gingerbread with Tangy Lemon Sauce topping," writes Brenda Boggs, of Dayton, Ohio. "This recipe is over 40 years old and is still as tasty today as it was the first time I tried it all those years ago."
"The beauty of these recipes is that they are delicious served hot or cold. I usually serve the gingerbread warm for dinner with the warm sauce. Subsequent servings can be cold or you can warm a single serving of the gingerbread in the microwave with either warmed or cold sauce over it. All combinations are delicious."
Gingerbread:
2 cups all-purpose flour
1½ tsp. baking soda
1½ tsp. ground ginger
½ tsp. salt
1 cup molasses
½ cup butter or margarine
½ cup sour milk or buttermilk
1 egg
Preheat oven to 325 degrees. Grease an 8- or 9-inch square pan.
Sift together flour, baking soda, ginger and salt. Set aside flour mixture.
On medium heat, stir together molasses and butter or margarine. Cool, then add sour milk or buttermilk and egg.
Beat the molasses mixture thoroughly.
Stir into the flour mixture and beat just enough to make a smooth batter.
Bake about 35 minutes until a toothpick inserted into the middle comes out clean.
Tangy Lemon Sauce:
1 cup white sugar
2½ Tbsp. cornstarch
2 cups water
2 egg yolks, slightly beaten
2 tsp. grated lemon rind (optional, but it adds more tang)
½ cup lemon juice
2 Tbsp. butter
Combine the sugar and cornstarch in a heavy saucepan.
Gradually add the water, stirring until smooth.
Cook over medium heat, stirring constantly until the mixture is thick and clear.
Remove from heat and blend 1⁄3 cup of the hot mixture gradually into the egg yolks, stirring constantly.
Add this back into the hot mixture in the saucepan and cook for two more minutes.
Remove from heat, add the lemon rind, lemon juice, and the butter.
Yields one 9-inch square pan.